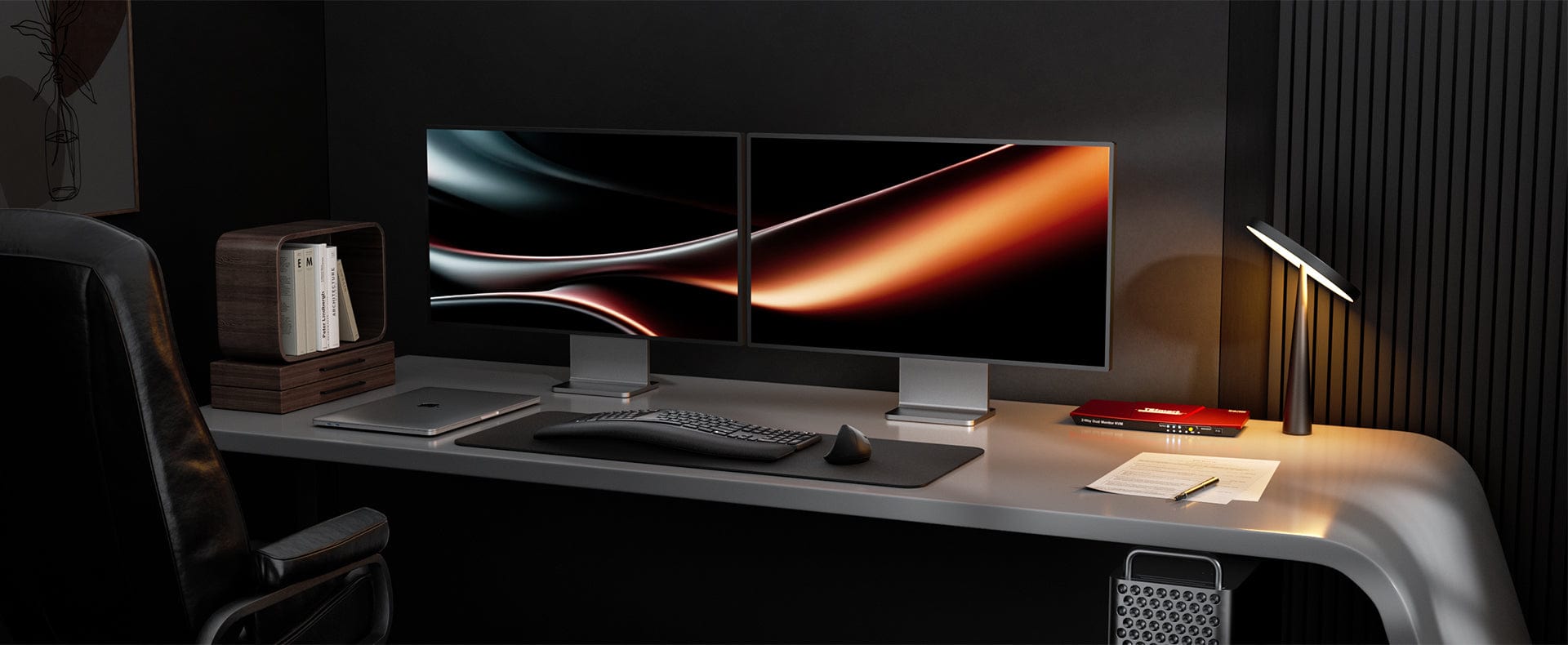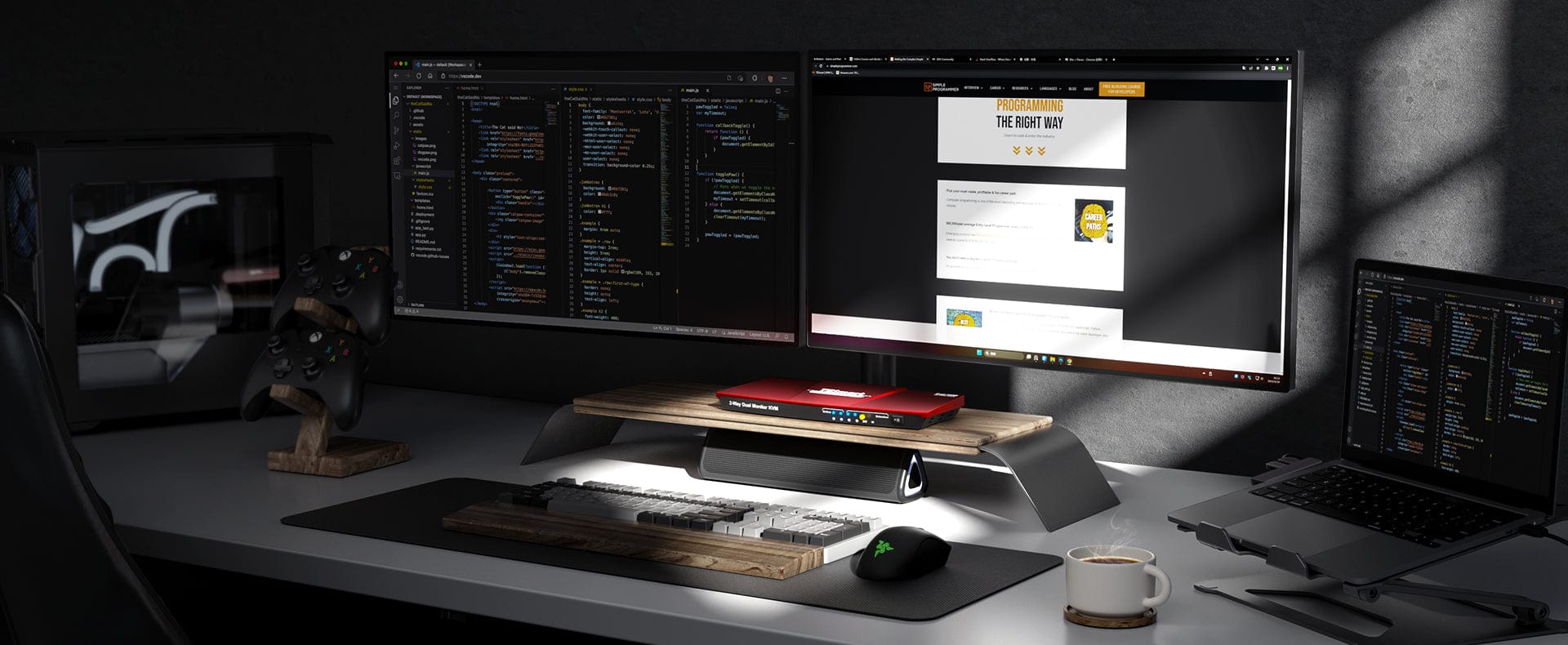 HKV0402A1U
Unleash your home office potential
Dual monitor KVM switch compatible with HDMI and VGA inputs to open endless possibilities for your home office!
HKV0402A1U
Revolutionize your workplace efficiency
Dual monitor KVM switch, a perfect addition to your professional workspace!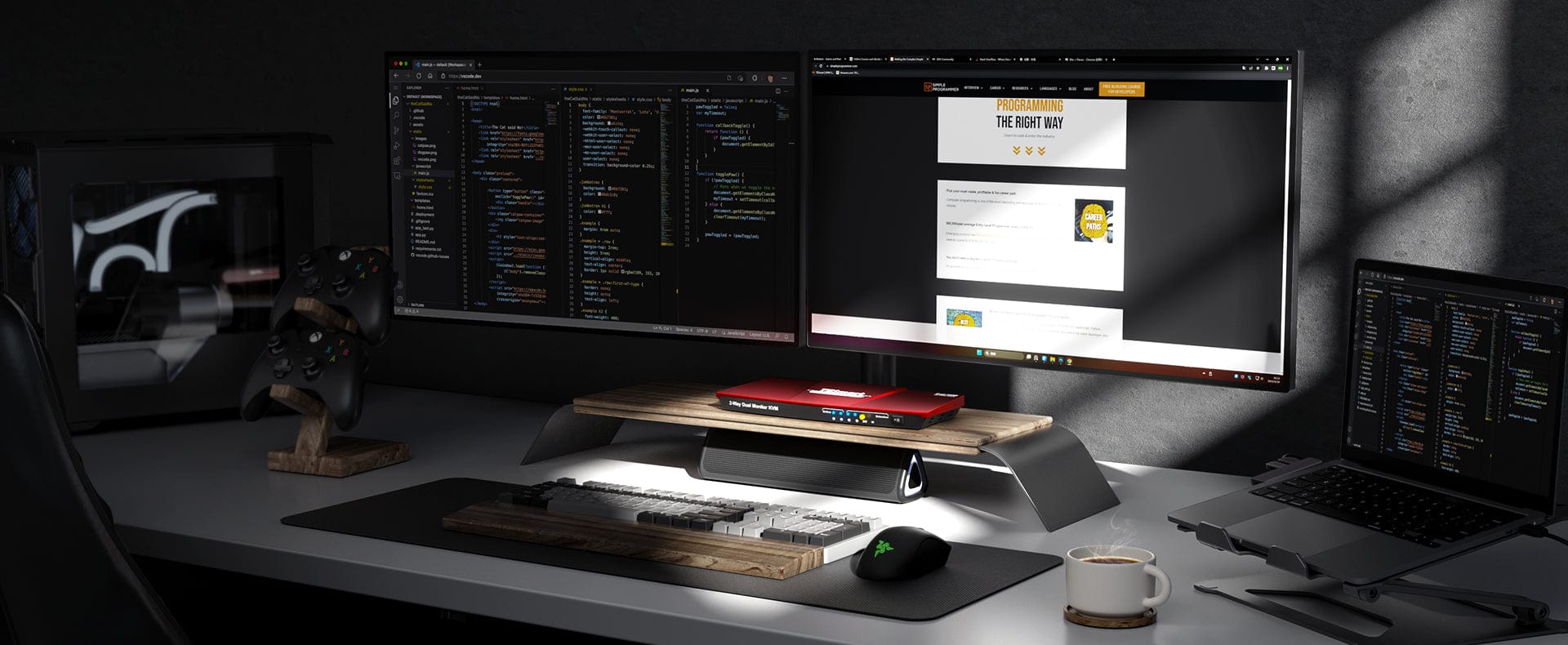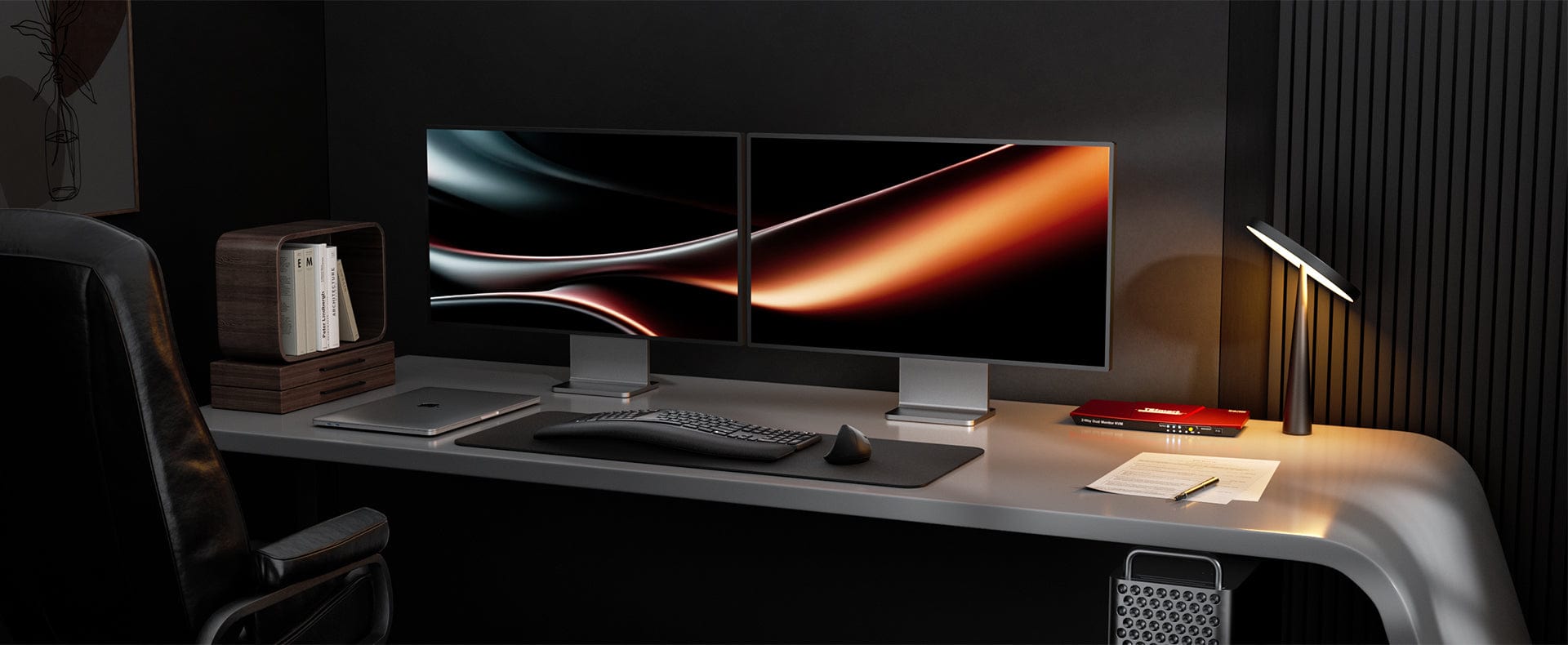 HKV0402A1U-EUBK
2-port HDMI+VGA 4K60Hz dual monitor KVM switch with USB hub
Regular price

€165,30

selling price

€148,74
---
About this article:
The KVM switch comes with the complete PC cables. 2* HDMI/USB + 2* VGA cables (for a second monitor) to the computers are included.

Efficient management of two PCs with a single keyboard, mouse and two 4K60Hz displays.

Designed specifically for computing devices that have a HDMI and a VGA port for dual monitor Use display.
Handles 1080P@60Hz an VGA ports and 3840*2160@60Hz (3440x1440@100Hz, 2560x1440@144Hz und more) to HDMI with ease -connectors, compatible with HDMI 2.0 and HDCP 2.2.
One mode: Extend or mirror the desktop.
3 ways to switch inputs: hotkeys, front button or remote control, and seamless keyboard and mouse operation after switching.
The EDID emulation prevents the conversion of resolution and symbols.
K&M pass-through for extensive keyboard compatibility: wired, wireless, mechanical and gaming keyboards.

Share USB and audio peripherals for added convenience.

Compatible with Windows, Mac and Linux and perfect for different scenarios: at home, in the office or at school.
Share
Free EU shipping

Fast delivery from local warehouse

Hassle free returns

30 days money back guarantee

Secure payment

No payment information is saved

Lifetime Tech Support

Official professional after-sales service
Key Features

KEY FEATURES

Efficiently manage two PCs with one set of keyboard, mouse and two 4K60Hz displays.
Connect any PC to this KVM Switch with one HDMI and one VGA output for dual monitor functionality.
Provides dual monitor display mode: extended desktop or mirrored desktop. Does not support mixed mode or split desktop
K&M pass-through for compatibility with various keyboard types: wired, wireless, mechanical and gaming.
Easy plug and play setup without drivers.
Compatible with Windows, Mac and Linux, ideal for use at home, in the office or in education.

OTHER FEATURES

3 ways to switch inputs: keyboard hotkeys, front panel pushbuttons or remote control.
Assignable hotkey triggers from Scroll to Right CTRL.
USB sharing for printer, jump drives, USB -Headsets and webcams for teleconferencing.
Automatic scanning with an adjustable time interval from 1 to 250 seconds.
Transmits audio via HDMI to monitors or external speakers via the KVM's stereo output.

TECHNICAL DATA

HDMI 2.0 supports 3840x2160(4K)@60hz, 3440x1440@100Hz, 2560x1440@144Hz, QHD@144hz, FHD@144hz auf 1 monitor.
HDR 10 - HDCP 2.2 - Dolby Vision - 4:4:4 chroma sampling on 1 monitor.
EDID emulation to avoid resolution and symbol conversions.
Keyboard and mouse switching with no delay and no latency.
IR remote control (battery not included). Requires 2 AAA batteries.
Before the purchase

Scope of delivery

EACH PC MUST MAKE 2 VIDEO CONNECTIONS (HDMI+VGA) TO KVM FOR TWO MONITORS

1 * 2x2 HDMI+VGA Dual Monitor KVM Switch
1 * DC 5V power adapter
2 * VGA cable
2 * KVM cable (HDMI+USB)
1 * IR remote control
1 * User Manual

SHIPPING

We offer free express shipping (Fedex/DHL) for EU orders.

2 YEARS WARRANTY EXTENDED TO 3 YEARS

TESmart KVM Switch comes with a 2 year warranty from the date of purchase. We offer a warranty extension program. Register to extend the warranty to 3 years.
The warranty covers all defects in materials and workmanship under normal use. We reserve the right to replace any defective product under warranty (no repairs, only exchanges).
Support

FAQ

The switch must accept video on one HDMI input and one VGA input per PC for dual monitor output.
Audio is transmitted via an HDMI connection. An HDMI monitor is required for audio.
Hotkeys are triggered by a keyboard connected to the dedicated mouse or keyboard ports.
Emulation programming is locked and cannot be accessed by the mouse and keyboard ports are removed.
Dedicated mouse and keyboard ports should not be used for other USB devices.
Use a powered USB hub to increase the number of USB 2.0 ports .
If the wireless mouse/keyboard "stutters", use a USB extender to shorten the distance to the receiver.
Please insert 2 AAA batteries before using the Use remote control (batteries not included).

COMPATIBILITY INFORMATION

Dedicated mouse and keyboard ports have emulation programming. Second generation chipsets have a "passthrough mode" to transmit special characters such as multimedia keys (play, pause, volume up/down, etc.), which greatly improves keyboard compatibility.
Keyboard software such as Logitech Options, DAS Q, Corsair iCUE, etc. conflicts with emulation programming and limits the ability to use dedicated macro keys. We recommend using the KVM's USB 2.0 port as a workaround if this software is desired. The USB 2.0 port does not have emulation programming and therefore the KVM does not recognize hotkey toggle commands. If needed, use a powered USB hub to extend USB connectivity.

MORE INFO
Tired of the chaos? Try TESmart KVM Switch.
Renew your hybrid life
Boost your productivity with fast switching, stable performance, and broad device compatibility. Experience the convenience and efficiency of KVM switches at a new level
Unleash the power of HDMI and VGA

Seamless audio I/O and USB 2.0 sharing

4K@60Hz and 1080P@60Hz, full potential unfolded

One-button switching
Experience the full potential of your HDMI and VGA devices with our KVM switch. Easily connect any PC to dual displays with our high-performance HDMI and VGA ports. Enjoy seamless switching between devices and optimize your productivity. Please note that for dual monitors, each PC needs to make 2 video connections (HDMI+VGA) to the KVM.
Easily connect your headphones or speakers via the L/R audio output and enjoy seamless audio output. Sharing USB 2.0 devices between multiple devices simplifies your setup and increases your productivity. Perfect for home, office or school.
Ultimate compatibility for 4K, ultra-wide and cutting-edge displays. Elevate your visual experience with this Dual Monitor HDMI VGA KVM Switch. The HDMI port supports resolutions up to:
3840x2160 (4K) @60Hz,
3440x1440 @100Hz,
2560x1440 @144Hz.
Choose your ideal switching method:
Keyboard hotkeys, IR remote or front panel buttons.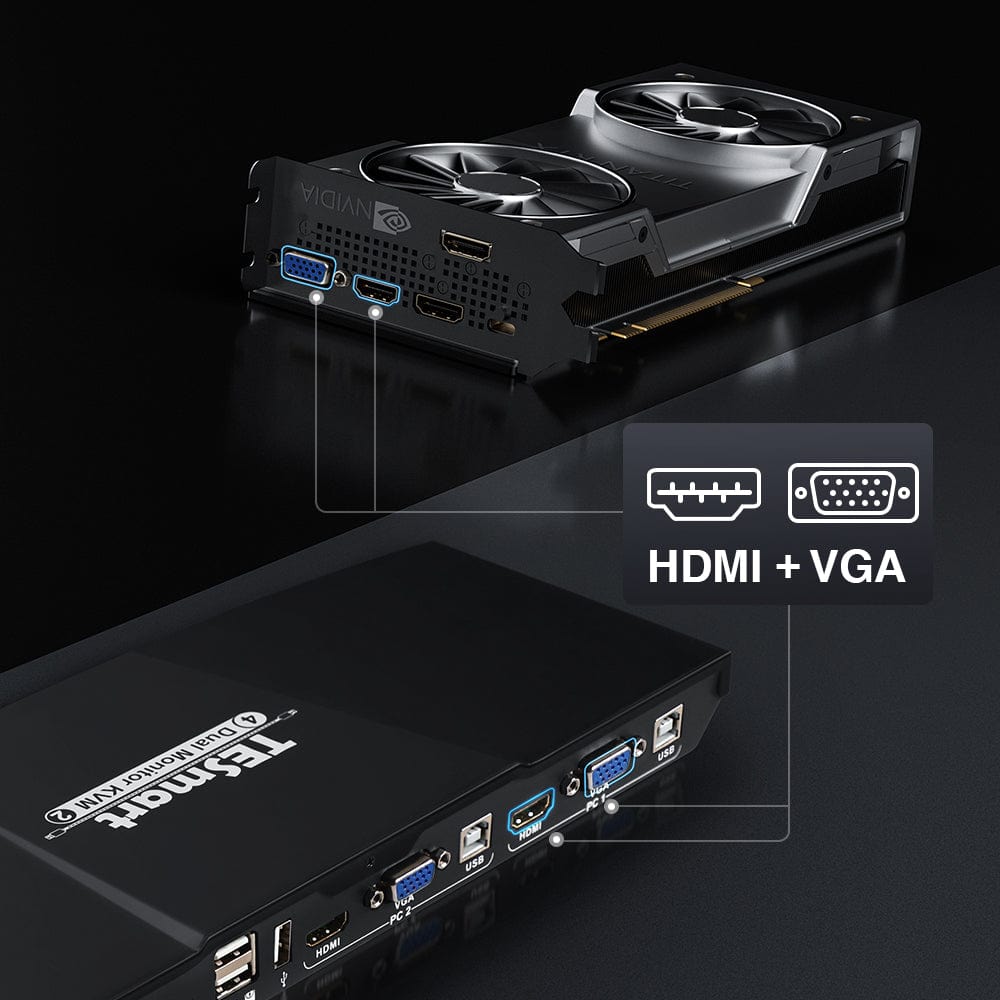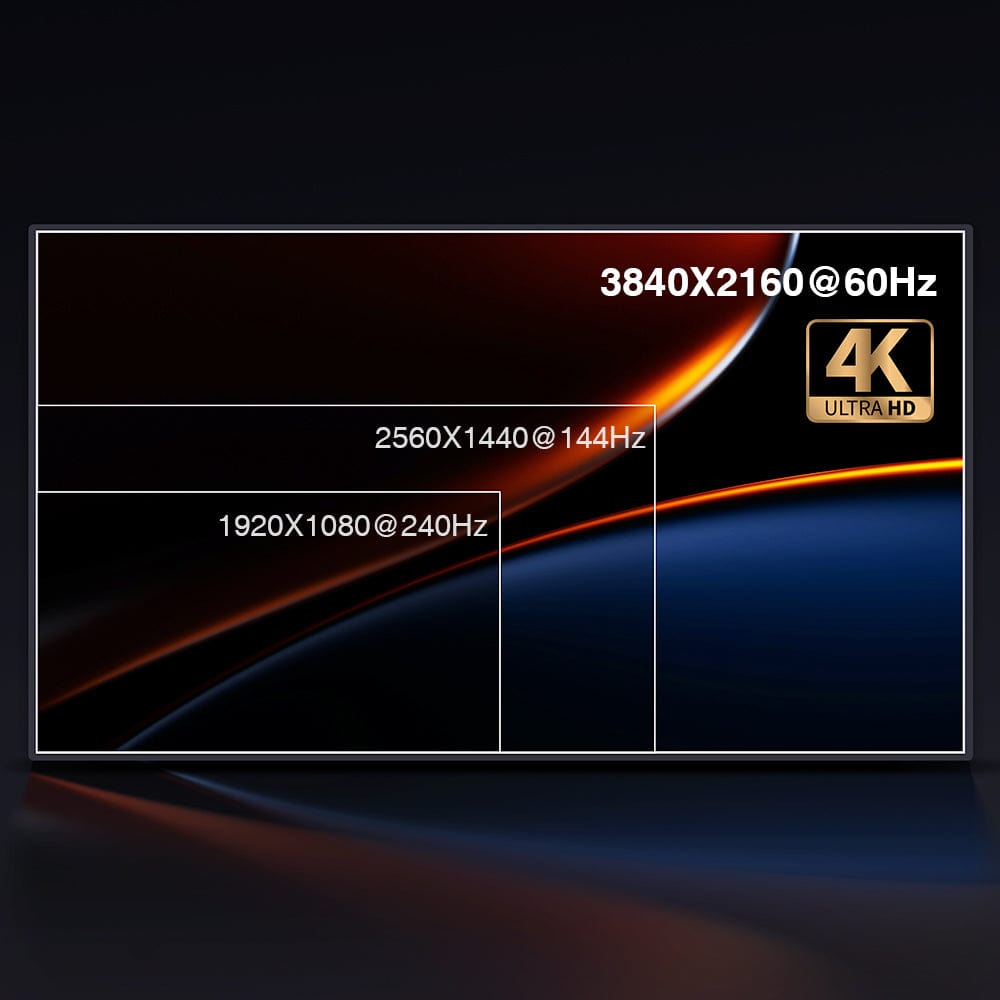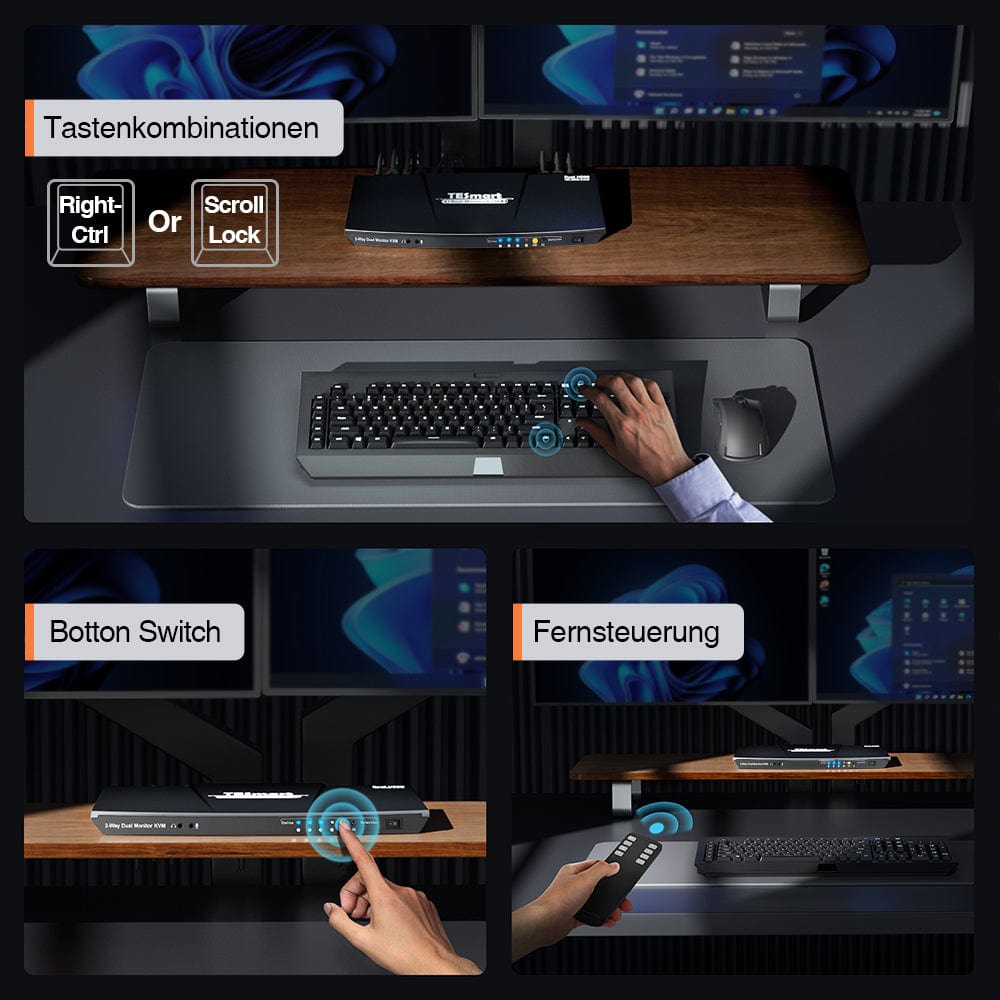 Dual monitor control made easy

Always accurate display with EDID emulation

Increased KVM compatibility with pass-through mode

Seamless keyboard and mouse switching
Choose between extended and split desktop modes for seamless control of multiple devices on two screens. Switch effortlessly between laptop and PC while controlling dual displays, audio, keyboard and mouse. Perfect for home, office or training. Enjoy reliable 4K monitor support for Mac and Windows. Simplify your setup and save time with this amazing KVM switch.
Never worry about display issues again.
Our KVM switch with EDID emulation ensures your computers always get the correct display information for a seamless and worry-free experience.
Compatible with various keyboard types including wired, wireless with 2.4G receiver, mechanical and multimedia keyboards.
Enjoy improved KVM compatibility with pass-through mode.
Experience instant keyboard and mouse access to any connected PC with seamless switching.
Say goodbye to waiting and say goodbye to non-stop productivity with our KVM switch.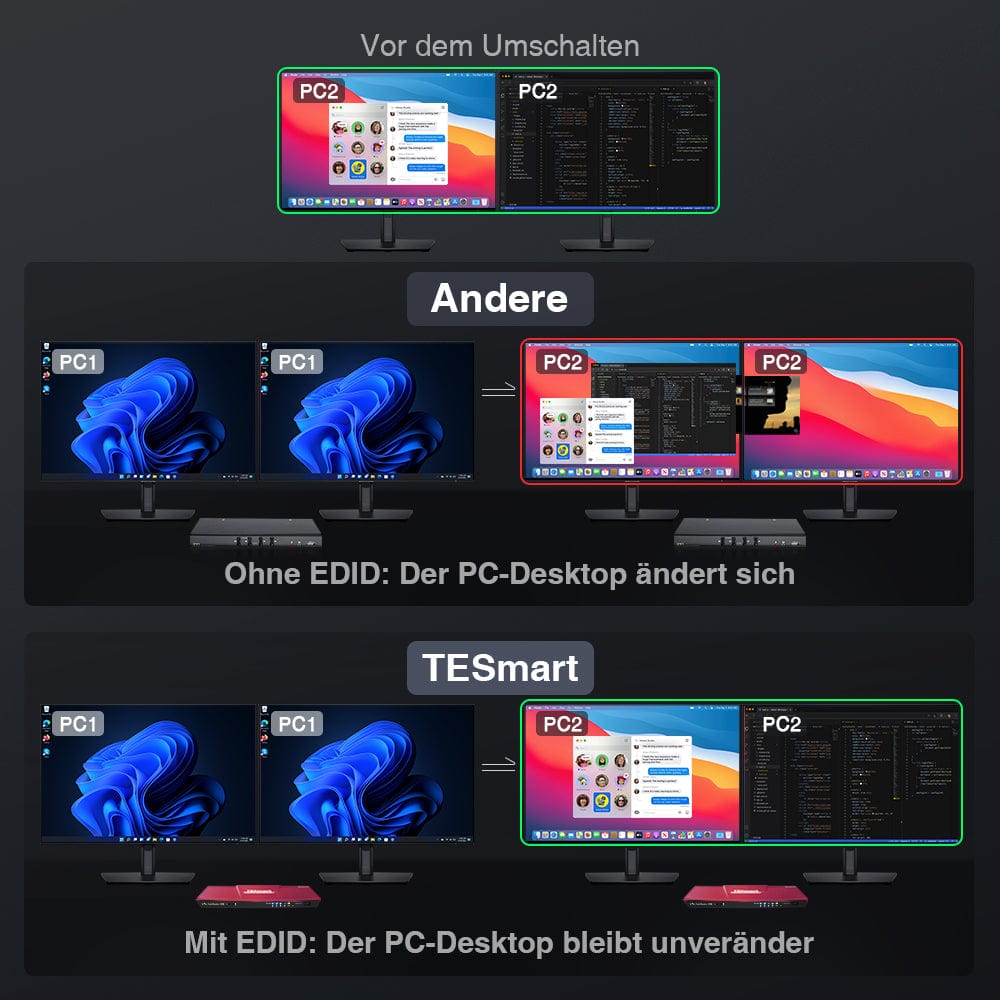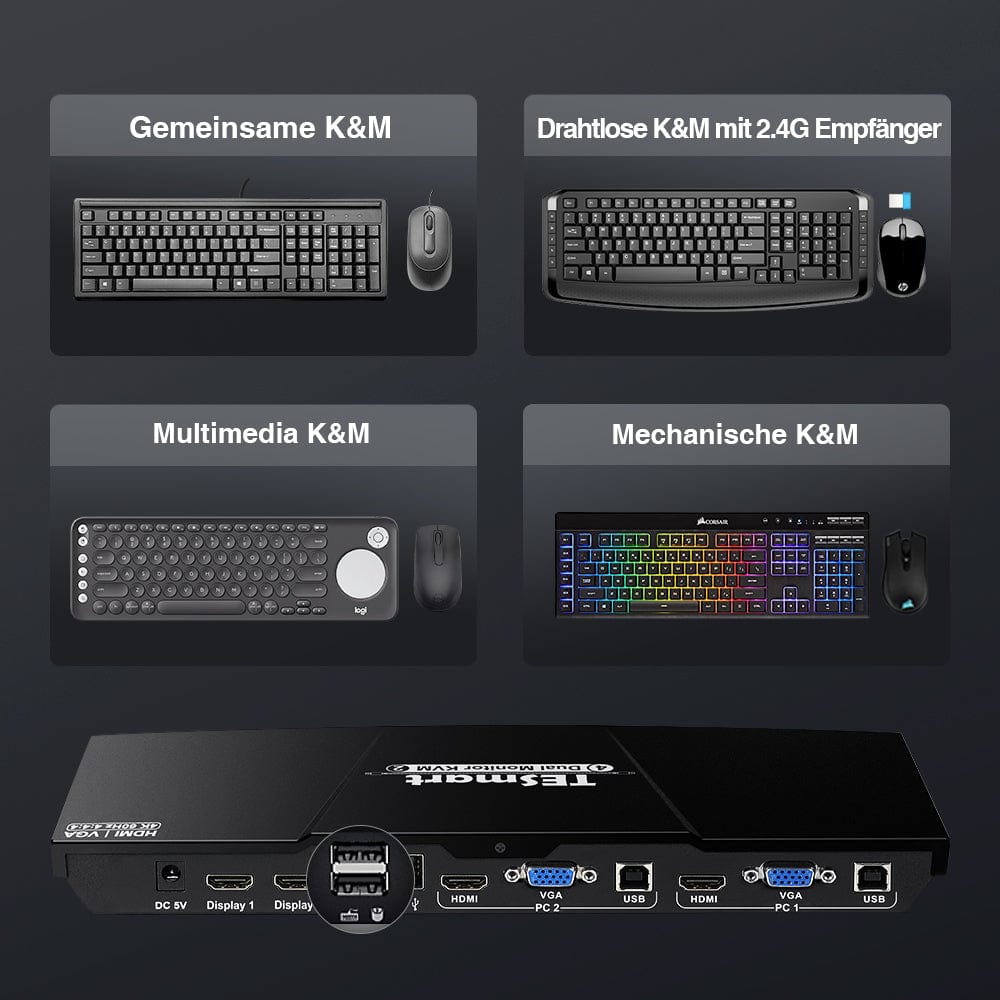 What's included?
EACH PC MUST HAVE 2 VIDEO CONNECTIONS (HDMI+VGA) TO THE KVM FOR DUAL MONITORS
1 * 2x2 HDMI+VGA Dual Monitor KVM Switch
1 * DC 5V power adapter
2 * VGA cable
2 * KVM cable (HDMI+USB)
1 * IR remote control
1 * User Manual
Eindrucksvoll
genau das, was ich brauche, damit beide Systeme funktionieren
Erwartungen erfüllt
Mir gefällt, dass 2 HDMI-Kabel dabei waren.
Funktioniert wie erwartet. Das Anschließen meiner Computer und des Zubehörs war unkompliziert. Nichts zu schwieriges, außer dass die Schrauben des VGA-Kabels etwas fest einzuschrauben waren. Ansonsten funktioniert es wie am Schnürchen!
Tut genau das, was es für ein wirbt, einfach und einfach
Ich habe meine heute angesaugt, als ich das Büro neu organisierte, um einen Arbeitslaptop und meinen PC zu unterstützen. Alles ging zusammen, ohne sich das Handbuch anzusehen, und ich wechsle leicht meine beiden Monitore und die Tastatur zwischen Computern. So weit, ist es gut!
Qualitätsprodukt
Ich habe beim ersten Mal den falschen Schalter bestellt, der technische Support hat mir geholfen, das schnell herauszufinden. Sehr einfache Rückgabe und schneller Austausch mit dem richtigen Schalter. Funktioniert auch mit 2 Dockingstationen anstelle von Computern hervorragend.
Does exactly what it advertises, simply and easily
Gerade heute habe ich meine angeschlossen, als ich das Büro neu organisiert habe, um einen Arbeitslaptop und meinen persönlichen Computer zu unterstützen. Alles hat ohne Handbuch gut zusammengepasst, und ich kann problemlos meine beiden Monitore und die Tastatur zwischen den Computern wechseln. Bisher läuft alles gut!