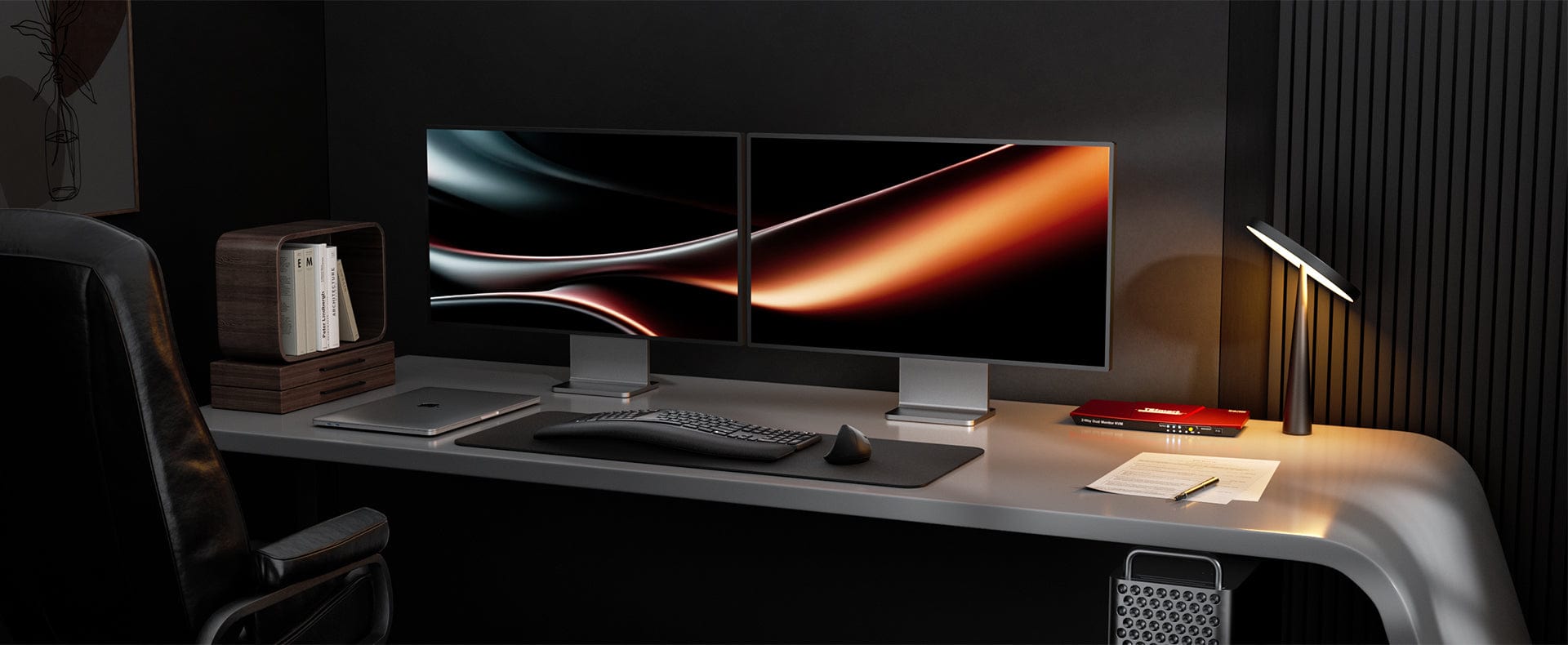 HDK0402A1U
Revamp your home office
Dual Monitor KVM Switch, a game changer for your remote work!
HDK0402A1U
Improve your office flow
Experience smooth office multitasking with the Dual Monitor KVM Switch!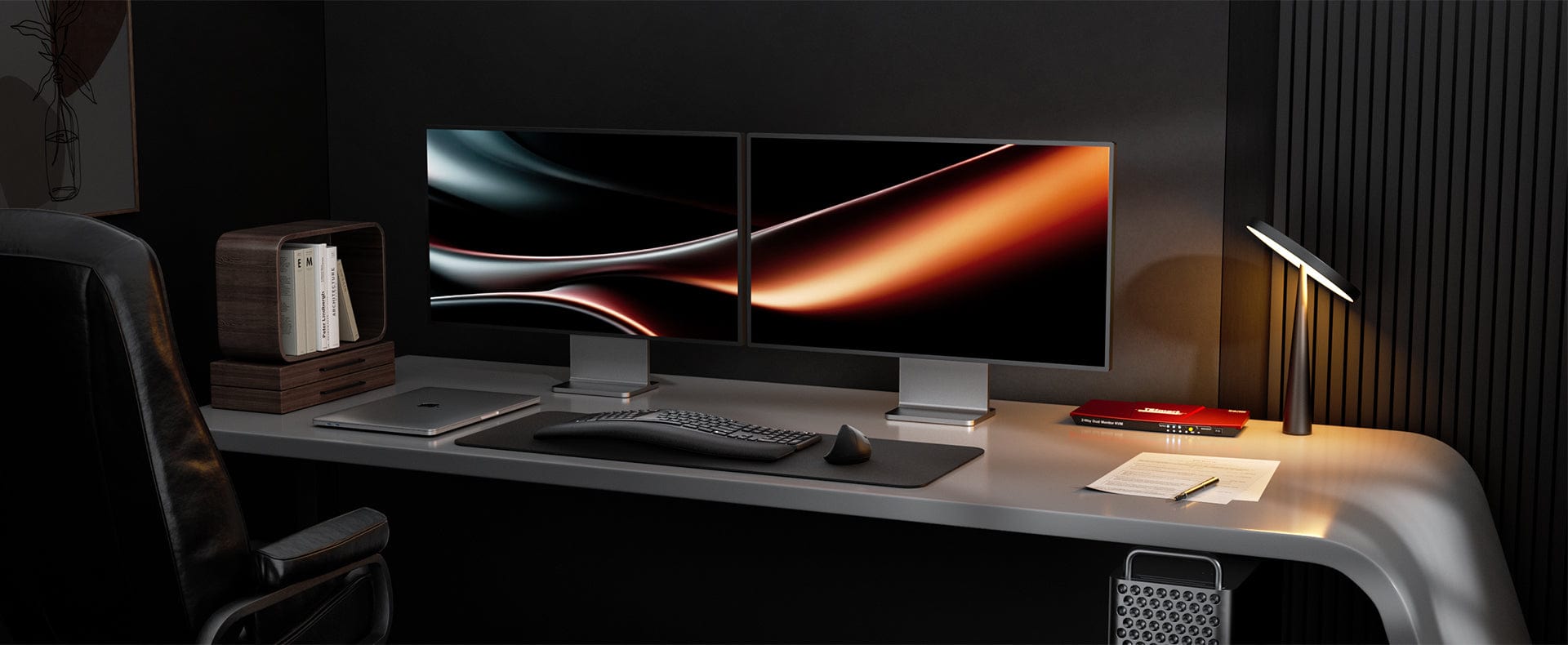 HDK0402A1U-EUBK
2 Port Dual Monitor KVM Switch HDMI+DP 4K60Hz with USB Hub
Regular price

€220,40

selling price

€198,32
---
About this article:
4-PC Dual Monitor KVM Models Comparison:
The KVM switch comes with the complete PC cables. 2* HDMI/USB + 2* DP cables (for second monitor) to the computers are included.

Efficiently manage two PCs with a single keyboard, mouse and two 4K60Hz displays.

Specifically designed for computing devices that use a HDMI and a DP port to provide a dual to reach the monitor display.
Easy handling of 4K60Hz, 3440x1440@100Hz, 2560x1440@144Hz and more, compatible with HDMI 2.0 and HDCP 2.2.
2 modes: Expand or split the desktop for a customizable computer display on any monitor.
3 ways to switch the inputs: hotkeys, front button or remote control, and seamless keyboard and mouse operation after switching.
The EDID emulation prevents the change of resolution and symbols.
K&M Pass-Through for comprehensive keyboard compatibility: wired, wireless, mechanical and gaming keyboards.

Sharing USB and audio peripherals for added convenience.

Compatible with Windows, Mac and Linux and perfect for different scenarios: at home, in the office or in training.
HDK0402A1U-EURD

:The products are shipped randomly, and due to different production batches, the appearance may be different, but the functions remain the same.
Comparison of the 2-PC Dual Monitor KVM models:
| | | | | | |
| --- | --- | --- | --- | --- | --- |
| Model | Version | Interface | Resolution | USB Hub | Audio |
| HKS0202A2U | Upgrade | HDMI+HDMI | 4K@60Hz | USB 3.0 Hub | Audio I/O |
| HDK0202A2U | Upgrade | HDMI+DP | 4K@60Hz | USB 3.0 Hub | Audio I/O |
| HKS0202A10 | Multifunctional | HDMI+HDMI | 4K@30Hz | USB 2.0 Hub | Audio I/O |
| HKS0402A1U | Classic | HDMI+HDMI | 4K@60Hz | USB 2.0 Hub | Audio Off |
| HDK0402A1U | Classic | HDMI+DP | 4K@60Hz | USB 2.0 Hub | Audio Off |
| HKV0402A1U | Classic | HDMI+VGA | 4K@60Hz | USB 2.0 Hub | Audio Off |
Share
Free EU shipping

Fast delivery from local warehouse

Hassle free returns

30 days money back guarantee

Secure payment

No payment information is saved

Lifetime Tech Support

Official professional after-sales service
Key Features

KEY FEATURES

Efficient management of two PCs with one set of keyboard, mouse and two 4K60Hz displays.
Close connect any PC to this KVM switch with a HDMI and a DP output to ensure the functionality of two monitors.
2 operating modes : Mode 1 for extended desktop and mode 2 for shared desktop (each computer is displayed simultaneously on 1 monitor).
K&M Pass-Through for compatibility with different keyboard types: wired, wireless, mechanical and gaming.
Easy plug and play setup without drivers.
Compatible with Windows, Mac and Linux, ideal for home use, in the office or in education.

OTHER FEATURES

3 ways to switch inputs: keyboard hotkeys, Front panel pushbuttons or remote control.
Assignable hotkey triggers from Scroll to Right CTRL.
USB sharing for printers, jump drives, USB headsets and webcams for Teleconferencing.
Automatic scanning with an adjustable time interval from 1 to 250 seconds.
Transmits audio via HDMI to monitors or external speakers via the KVM's stereo output.

SPECIFICATIONS

HDMI 2.0 and DP 1.2 support 3840 x 2160 (4K) at 60 Hz, 3440 x 1440 at 100 Hz, 2560 x 1440 at 144Hz, QHD@144Hz, FHD@144Hz.
HDCP 2.2 compliant.
EDID emulation to avoid resolution and icon switching.
Keyboard and mouse switching with no delay and no latency.
IR remote control (battery not included). Requires 2 AAA batteries.
Before the purchase

Scope of delivery

EACH PC MUST MAKE 2 VIDEO CONNECTIONS (HDMI+DP) TO KVM FOR TWO MONITORS

1 * 2x2 HDMI+DP Dual Monitor KVM Switch
1 * DC 12V Power Adapter
2 * DP Cable
2 * KVM Cable (HDMI+USB)
1 * IR Remote Control
1 * User Manual

SHIPPING

We offer free express shipping (Fedex/DHL) for EU -Orders.

2 YEAR WARRANTY EXTENDED TO 3 YEARS

TESmart KVM Switch comes with a 2 year warranty from the date of purchase delivered. We offer a warranty extension program. Register to extend the warranty to 3 years.
The warranty covers all defects in materials and workmanship under normal use. We reserve the right to replace any defective product under warranty (no repairs, only exchanges).
Support

FAQ

The switch must receive video signals on one HDMI input and one DP input per PC for dual monitor output.
Audio is transmitted over an HDMI connection. An HDMI monitor is required for audio.
Hotkeys are triggered by a keyboard connected to the dedicated mouse or keyboard ports.
Emulation programming is locked and cannot be accessed by the mouse and keyboard ports are removed.
Dedicated mouse and keyboard ports should not be used for other USB devices.
Use a powered USB hub to increase the number of USB 2.0 ports .
If the wireless mouse/keyboard "stutters", use a USB extender to shorten the distance to the receiver.
Please insert 2 AAA batteries before using the Use remote control (batteries not included).

COMPATIBILITY INFORMATION

Dedicated mouse and keyboard ports have emulation programming. Second generation chipsets have a "passthrough mode" to transmit special characters such as multimedia keys (play, pause, volume up/down, etc.), which greatly improves keyboard compatibility.
Keyboard software such as Logitech Options, DAS Q, Corsair iCUE, etc. conflicts with emulation programming and limits the ability to use dedicated macro keys. We recommend using the KVM's USB 2.0 port as a workaround if this software is desired. The USB 2.0 port does not have emulation programming and therefore the KVM does not recognize hotkey toggle commands. If needed, use a powered USB hub to extend USB connectivity.

MORE INFO
Tired of the chaos? Try TESmart KVM Switch
Renew your hybrid life
Boost your productivity with fast switching, stable performance, and broad device compatibility. Experience the convenience and efficiency of KVM switches at a new level
Unleash the power of HDMI and DP

Unlock the full potential of 4K@60Hz

Two monitors, two display modes

One-button switching
Experience the full potential of your HDMI and DP devices with our KVM switch. Connect any dual-screen PC with our high-performance HDMI and DP connector.
Enjoy seamless switching between devices and maximize your productivity.
Please note that for two Monitors each PC must make 2 video connections (HDMI+DP) to the KVM.
Ultimate compatibility for 4K, ultra-wide and cutting-edge displays. Elevate your visual experience with this Dual Monitor HDMI DP KVM Switch.
Supports resolutions up to:
3840x2160 (4K) @60Hz,
3440x1440 @100Hz ,
2560x1440 @144Hz.
Choose between extended and split desktop modes for seamless control of multiple devices on two screens. Effortlessly switch between laptop and PC while controlling dual displays, audio, keyboard and mouse.
Perfect for home, office or study.
Enjoy reliable 4K playback Mac and Windows monitor support.
Simplify your setup and save time with this amazing KVM switch.
Choose your ideal switching method:
Keyboard hotkeys, IR remote or front panel buttons.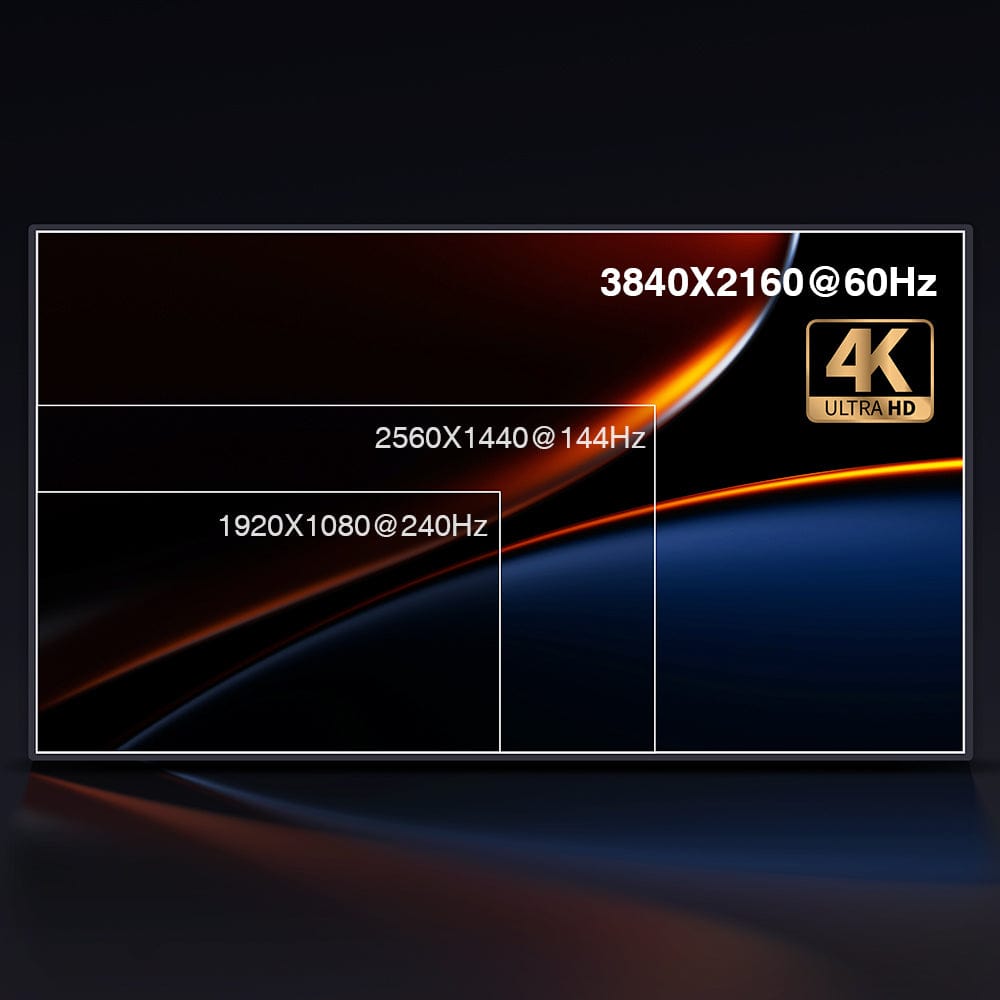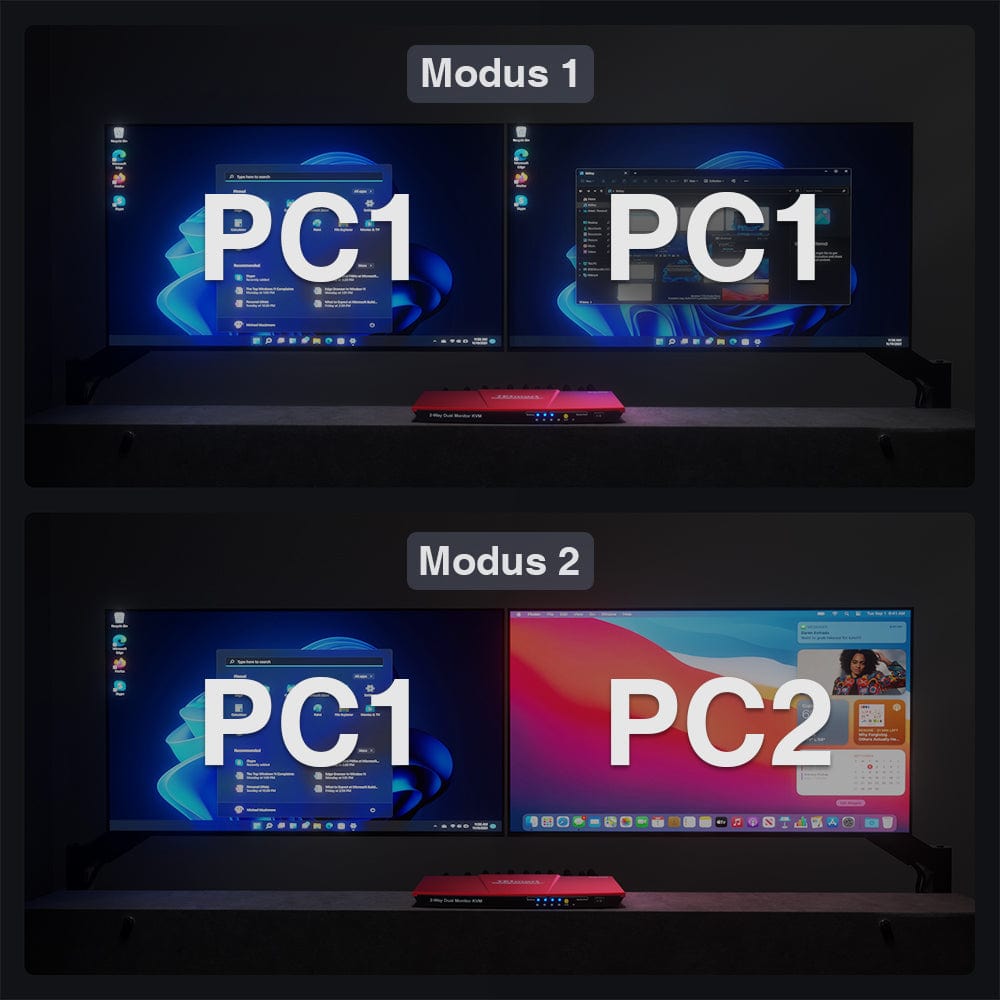 Always accurate display with EDID emulation

Increased KVM compatibility with pass-through mode

Seamless keyboard and mouse switching

Seamless audio and USB 2.0 sharing
Never worry about display issues again.
Our KVM switch with EDID emulation ensures your computers always get the correct display information for a seamless and worry-free experience.
Compatible with various keyboard types including wired, wireless with 2.4G receiver, mechanical and multimedia keyboards.
Enjoy improved KVM compatibility with pass-through mode.
Experience instant keyboard and mouse access to any connected PC with seamless switching.
Say goodbye to waiting and say goodbye to non-stop productivity with our KVM switch.
Easily connect your headphones or speakers via the L/R audio output and enjoy seamless audio output.
Share USB 2.0 devices between multiple devices simplifies your setup and increases your productivity .
Perfect for home, office or school.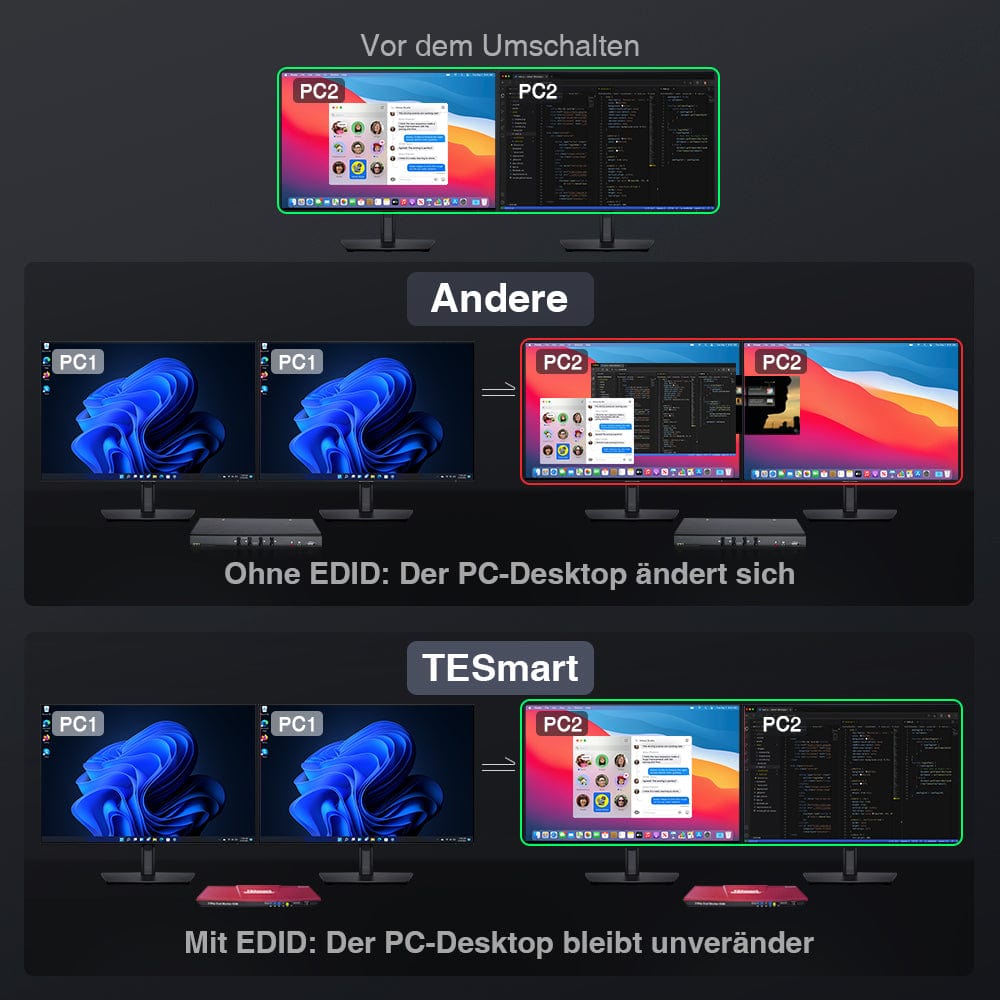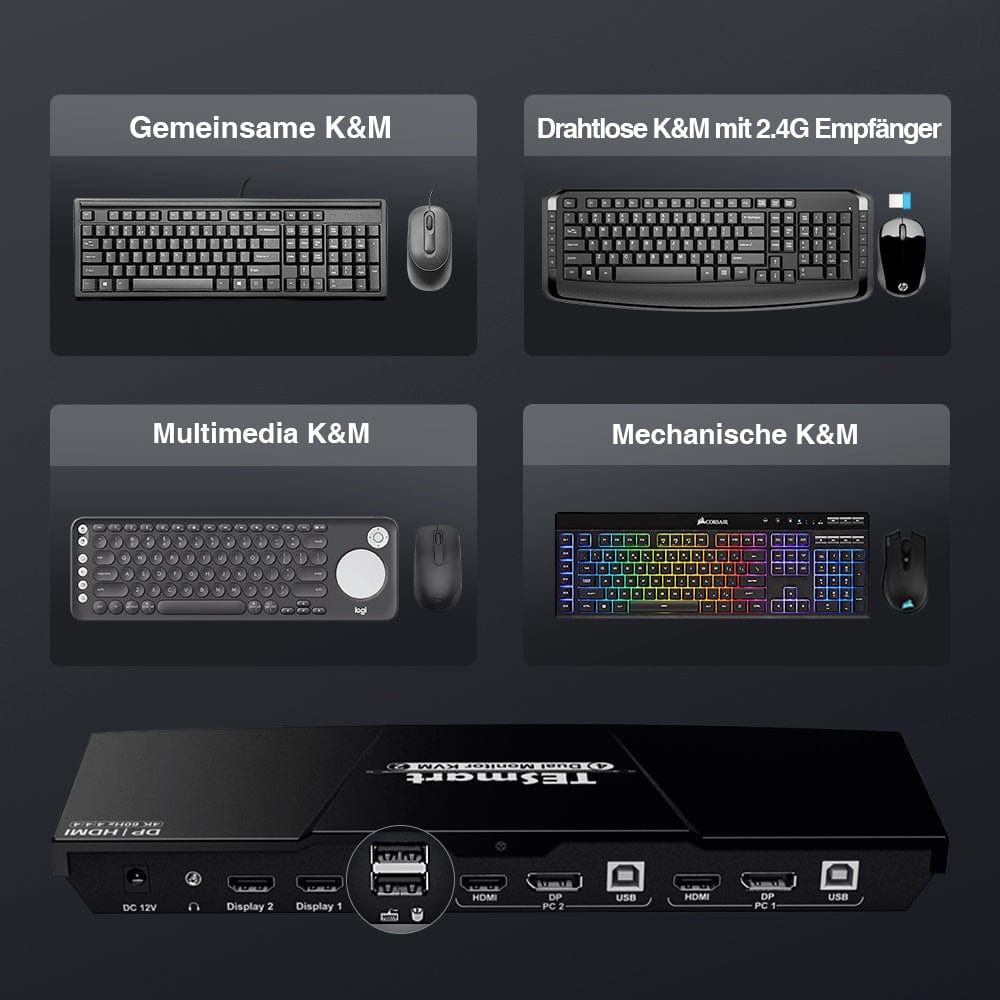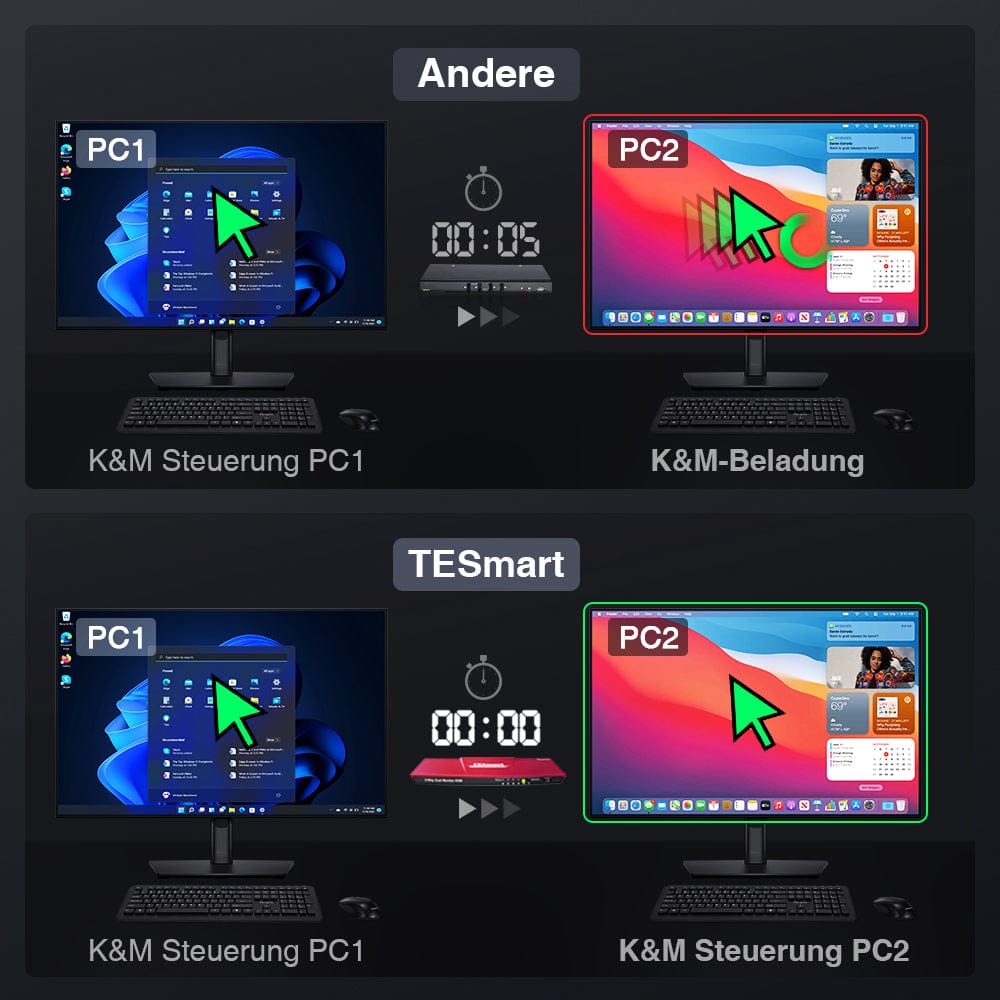 What's included?
EACH PC MUST MAKE 2 VIDEO CONNECTIONS (HDMI+DP) TO THE KVM FOR DUAL MONITORS
1 * 2x2 HDMI+DP Dual Monitor KVM Switch
1 * DC 12V Power Adapter
2 * DP Cable
2 * KVM Cable (HDMI+USB)
1 * IR Remote Control
1 * User Manual
Reviews by Youtubers
@Reviewing Playing & More RPM
TESmart 2-Way Dual Monitor KVM Switch Unboxing, Review, Install & Demo
I've thought often to get a KVM Switch so when it was offered up to me to review I couldn't resist. A couple changes and it'll be perfect, and that is easy to accomplish. Hope you enjoy it!
- Reviewing Playing & More RPM
VIEW MORE
Sieht schick aus, ist klein und funktioniert
Der KVM-Switch von TESmart ist klein, handlich und sieht sehr hochwertig aus. Das Gehäuse besteht aus Metall und macht haptisch sowie auch optisch einen hervorragenden Eindruck. Auf der Rückseite des Geräts befinden sich HDMI-Eingänge und -ausgänge sowie die Display Port Anschlüsse (Eingang). Die Kabel sind okay und passen in die Anschlüsse ohne zu wackeln. Ich persönlich finde solche Geräte ja total überflüssig, aber mein Mann meinte dass man sowas unbedingt braucht 😉
Er nutzt ihn zum Umschalten zwischen seinem PC und einem NVR, auf dem seine Kameras laufen. Das ganze funktioniert stabil und er ist glücklich. Im Endeeffekt habe ich dann doch eingesehen, dass es einen Vorteil für mich hat: Er braucht jetzt nur noch zwei und keine drei Monitore, nur einmal Tastatur und Maus, was heißt, dass auch ich auf dem Schreibtisch noch einen kleinen Platz zum Arbeiten habe 😅 Von ihm gibt es fünf Sterne und eine Kaufempfehlung!
Versüßt mir das Home-office
Das Teil funktioniert wie es soll. Endlich keine Kabel mehr hin und her stecken zwischen Arbeitslaptop und privatem Desktop. Immer zwei Monitore am Start mit easy hin und her schalten. Das Teil versüßt mir das Home-office. Einfach nur genial. Kleiner Kritikpunkt: Die beiliegenden Displayport Kabel sind von fragwürdiger Qualität, die fassen sich schon komisch an. Eins war bei mir dann auch kaputt, aber ich hatte noch eines rumliegen, so dass ich es verschmerzen konnte. Alle Umschaltmöglichkeiten lassen sich per Fernbedienung schalten. Per Tastatur Hotkey lassen sich nur beide Monitore zwischen den PCs schalten, aber nicht ein Monitor PC1 und ein Monitor PC2 , da auf deutschen Tastaturen die rechte Alt Taste fehlt. Spezis finden dafür bestimmt einen Workaround. Insgesamt sehr empfehlenswert!
Ich bin beeindurckt - perfekt fürs Homeoffice
Das wichtigste zuerst: Sollte man diese KVM für das Homeoffice verwenden, ist zu beachten, dass auf manchen Endgeräten (PCs) externe Geräte nicht übterstützt werden. Bei meinem PC und Laptop sind diese KVMs freigegeben, sodass ich die nutzten kann.
Zum Gerät selbst: Es tut genau was es soll (ohne Probleme). Das Kabelmanagement ist nahezu selbsterklärend. Wer seinen PC anschließen kann, wird hier keine Probleme haben. Habe sogar mein Audio Control anschließen können (<- Schaltet von Kopfhörer auf Lautsprecher etc. um) - die KVM kann das verarbeiten. Top!
Man kann insgesamt zwichen 2 Setups wechseln. So muss ich nach der Arbeit nicht die Kabel umstecken, sondern drücke einen Knopf an der KVM und kann meinen PC mit den angeschlossenen Geräten nutzten.
Der Comfort durch die KVM sind mir die Anschaffung wert. Das Umschalten läuft schnell ab, die Verarbeitung ist hochwertig :)
perfect
I am using this switch to connect my linux PC with a mac os.
it works greate. there are a lot of installation manuals and videos.
the only down side it that, it only comes with three use slots; two for keyboard, mouse and the third one I used it with my external audio interface.
Very impressive KVM!
The KVM switch does it's job quite well, and it works well with outboard audio gear (Steinberg UR22) which frankly mindblowing considering the state of drivers! The switching takes a few secs to complete. It comes with good factory cables and looks pretty pleasing too.
For home office I must say it is a must have. It has great documentation which you should read beforehand.... and after it 2 times, just to be sure. It is good enough to the point, if it is not working it must be because you did something incorrectly during config / cabeling. First time setup took me an hour. Figuring what goes where could be challenging if you haven't used this before, have your plan ready and then enjoy.
Tested with regular 1080p - 8bit displays only so far. It works as advertised.