HD8K200
TESmart 8K@60Hz HDMI 2.1 cable, 48Gbps, 4K@120Hz / 2K@240Hz
Regular price

€28,60

selling price

€24,34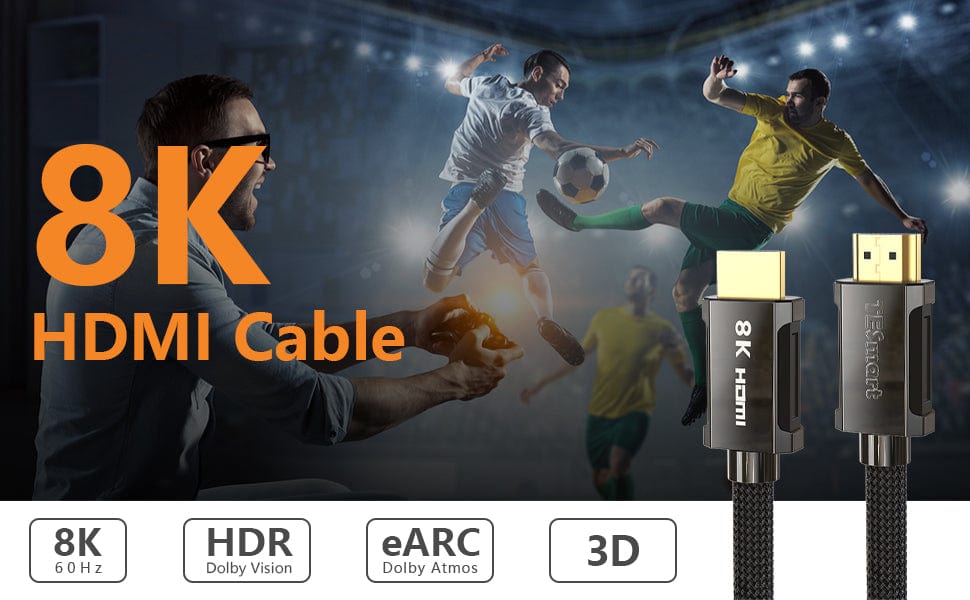 TESmart 8K@60Hz HDMI 2.1 cable, 48Gbps, 4K@120Hz / 2K@240Hz
TESmart maximizes the performance of HDMI2.1 connections with the exclusive internal structure, high-purity oxygen-free copper conductors and extremely quiet insulation. These advanced features enhance audio and video quality while supporting the 48Gbps data rate required by the most demanding new generation applications including 8K, HDR, eARC, 48Gbps and HDCP2.3, etc.
The 8K HDMI 2.1 cable adopts premium material which brings you excellent user experience.
Multi-layer shielding (oxygen-free copper core, aluminum foil, nylon braid jacket) improves data stability and signal integrity. No noise, and improve the ability to get rid of EMI (electromagnetic interference).
24K gold-plated corrosion-resistant connectors for guaranteed top-tier picture & sound. Easy for you to install, and the 8K HDMI cable will fit your device perfectly, reduce joints loose and falling,
HDMI 8K cable is solidly made with a tough yet flexible braided nylon outer jacket that strengthens the HDMI cable's durability, and is tangle-free, allowing to extend the life of the cable.
Properties
Supports dynamic HDR
Supports eARC (Enhanced Audio Return Channel)
Supports Dolby Vision
Supports HDCP 2.2 & 2.3
Supports Ethernet
Supports ARC
Supports CEC
Excellent compatibility
Displays:Compatible with Apple TV, Samsung QLED TV, Sony 8K UHD TV, Fire TV, Blu-ray player, projector, CD, DVD, PC, laptop, etc.
Console:Compatible with Nintendo Switch, Roku, Xbox, Playstation, PS4 Pro, etc.
HDMI version: HDMI 2.1/HDMI 2.0b/2.0a/1.4/1.3/1.2/1.1
Specific Points
Available lengths: 2m/6.5ft, 3m/10ft
Materials: 24k gold-plated connector, braided nylon jacket
HDMI version: HDMI 2.1, backwards compatible with all previous HDMI versions
Connector: HDMI male on connector
Bandwidth: 48Gbps
After-sales services
We offer our customers 12-month product protection and you can get a new replacement during the contract period. If you have any questions, please let us know, we will solve your problem within 24 hours.
packing list
1* 8K HDMI cable 2m or 1* 8K HDMI cable 3m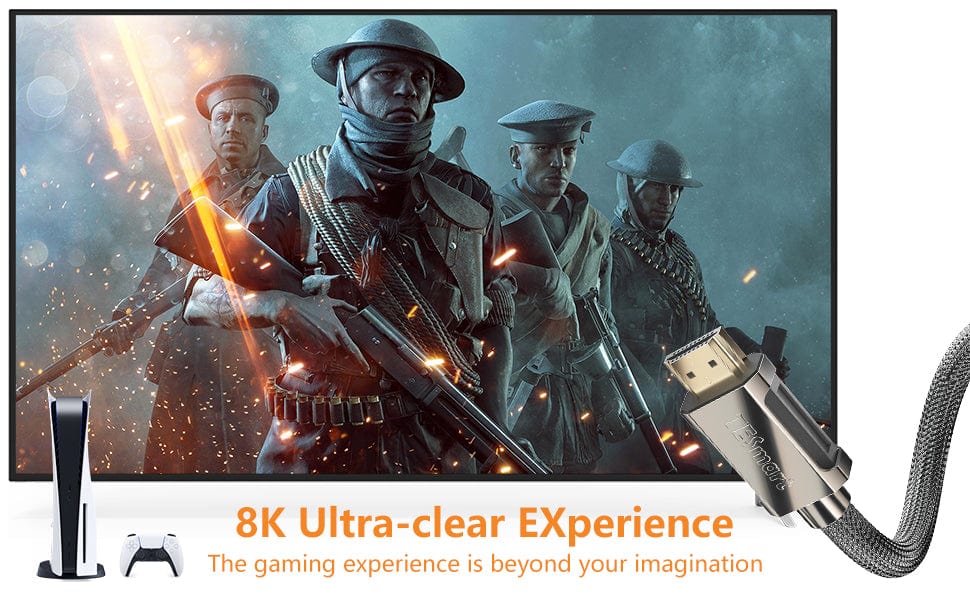 Share