HMA1616A20-EUBK
TESmart HDMI Matrix 16-Port 4K@30Hz untersupports HDCP1.4, with EDID
Regular price

€1.652,80

selling price

€1.487,50
---
Connects one of 16 HDMI sources to one of 16 HDMI screens & EDID management.

High resolution up to 3840*2160@30Hz 4:4:4, HDMI 1.4 and HDCP 1.4 compliant.

Simple control matrix via IR receiver, front keyboard and PC (via LAN or RS232 connection).

Supports PCM, Dolby AC3, DTS5.1, DTS7.1 and DSD audio formats.

Supports 8 configurable user preset connections, rack mount.
---
PLEASE CHECK THAT THE PRODUCT'S PORTS ARE COMPATIBLE WITH YOUR DEVICE.

Number of connectable computers: 16
Number of connectable monitors: 16
Art the input port: 16X HDMI
type of output port: 16X HDMI
maximum resolution: 4K@30Hz
specification
Description
This 16x16 HDMI matrix routes 16 Ultra HD sources to 16 Ultra HD displays with HDMI inputs. Any source can be routed to any display using the front panel buttons or IR remote control. The matrix can also be controlled via RS232, IP interface. Make it compatible with most HDMI sources and sinks with intelligent EDID management.
packing list

1 * 16x16 HDMI matrix
1 * DC 24V power supply
1 * IR extension cable
1 * 3-pin connector (for RS232)
2 * Rack-ears
1 * IR remote control
1 * User manual
main feature

Maximum resolution up to 3840*2160@30Hz.
Each HDMI output can share the same input or select an independent input.
Support PCM, Dolby AC3, DTS5. 1, DTS7.1 and DSD audio format.
Intelligent EDID management, compatible with most display devices.
Matrix status could be saved after power off, auto restore previous matrix status after next power on.
With EDID emulators in each input port, PCs always have the correct information and prevent changing display settings when changing input ports.
Simple control matrix via IR receiver, front keyboard and PC (via LAN or RS232 port).
Clear routing status via LCD display.
Supports user preset connections.
Supports DVI-D single link sources and Displays when using HDMI-to-DVI adapters.
Compatible operating systems

Support Unix/Windows/Debian/Ubuntu/Fedora/Mac OS X/Raspbian/Ubuntu for Raspberry Pi and other Linux based systems.
Safety measures

Please use 24V 3A power supply to install the product. Using an incorrect adapter may damage the product and even your devices.
Cables (including power and charging cables) should be routed so that they do not present a electrical, tripping, or safety hazard.
If the product has an exposed circuit board, do not touch it under power.
Characteristics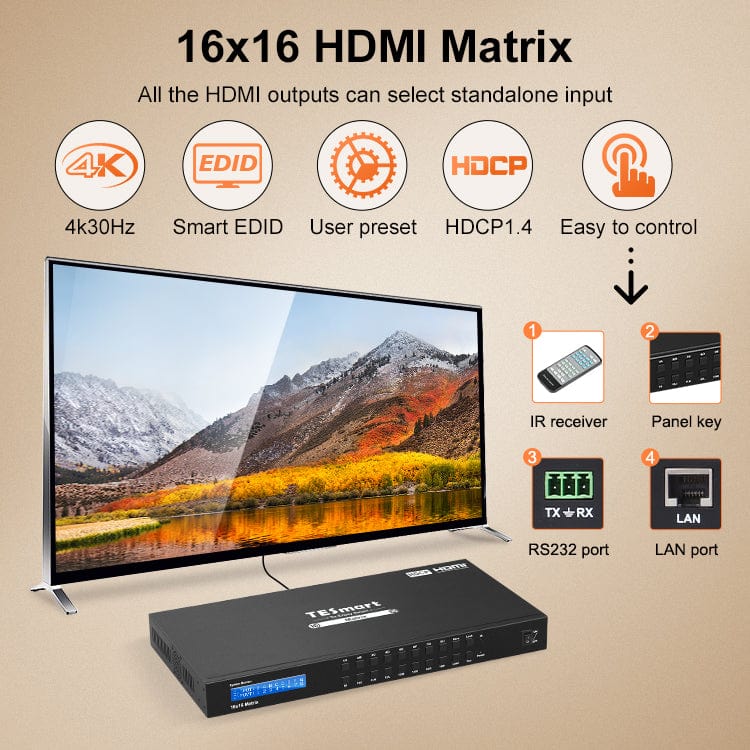 TOP Teil.
Funktioniert besser als beworben, einfache Installation! Wir haben dieses Gerät gekauft, um es im Acts of Random Christian Center einzusetzen. Oh mein Gott, wir können auf jeden Bildschirm senden, was wir wollen. Fantastisch für den Preis.