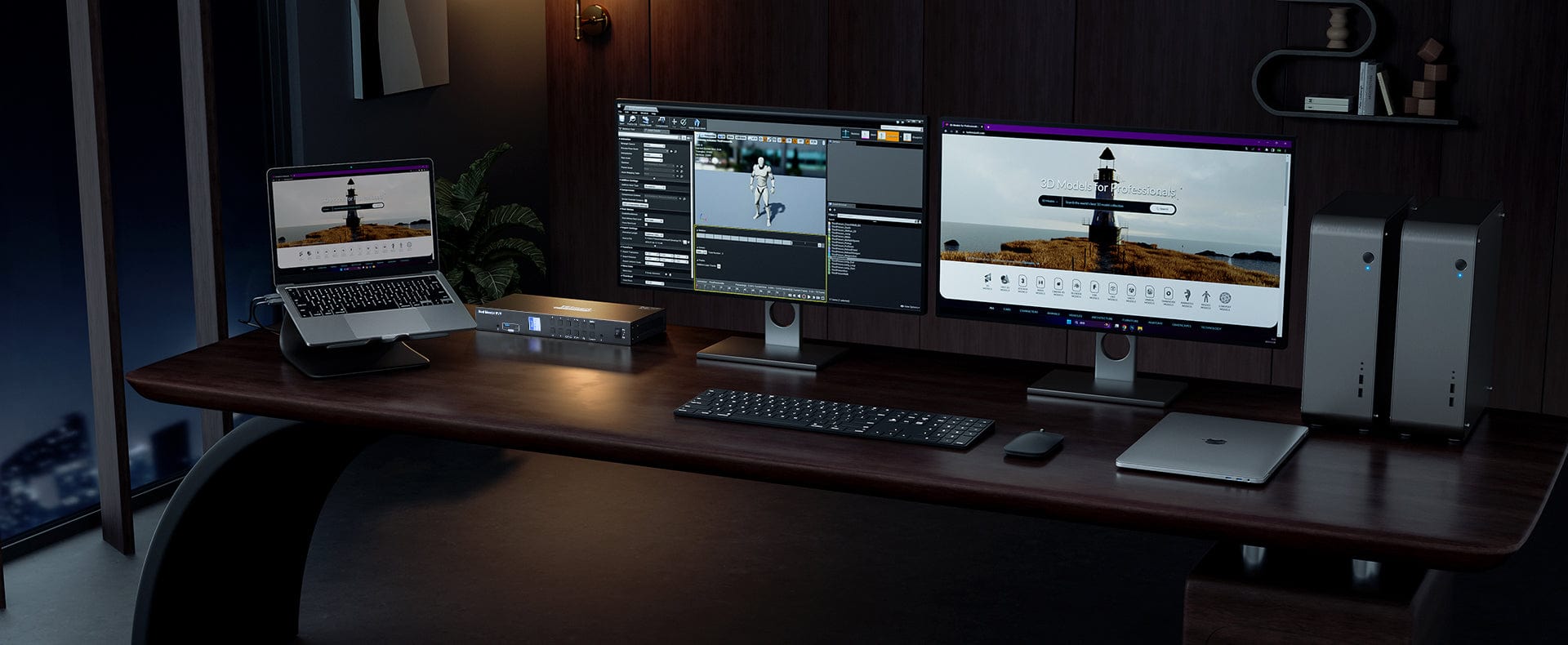 PKS0802A10
Liven up your home office
Experience a new dimension of efficiency in the home office with our dual-monitor KVM switch for DisplayPort!
PKS0802A10
Increase your business efficiency
Harness the power of our dual monitor KVM switch and boost your professional productivity!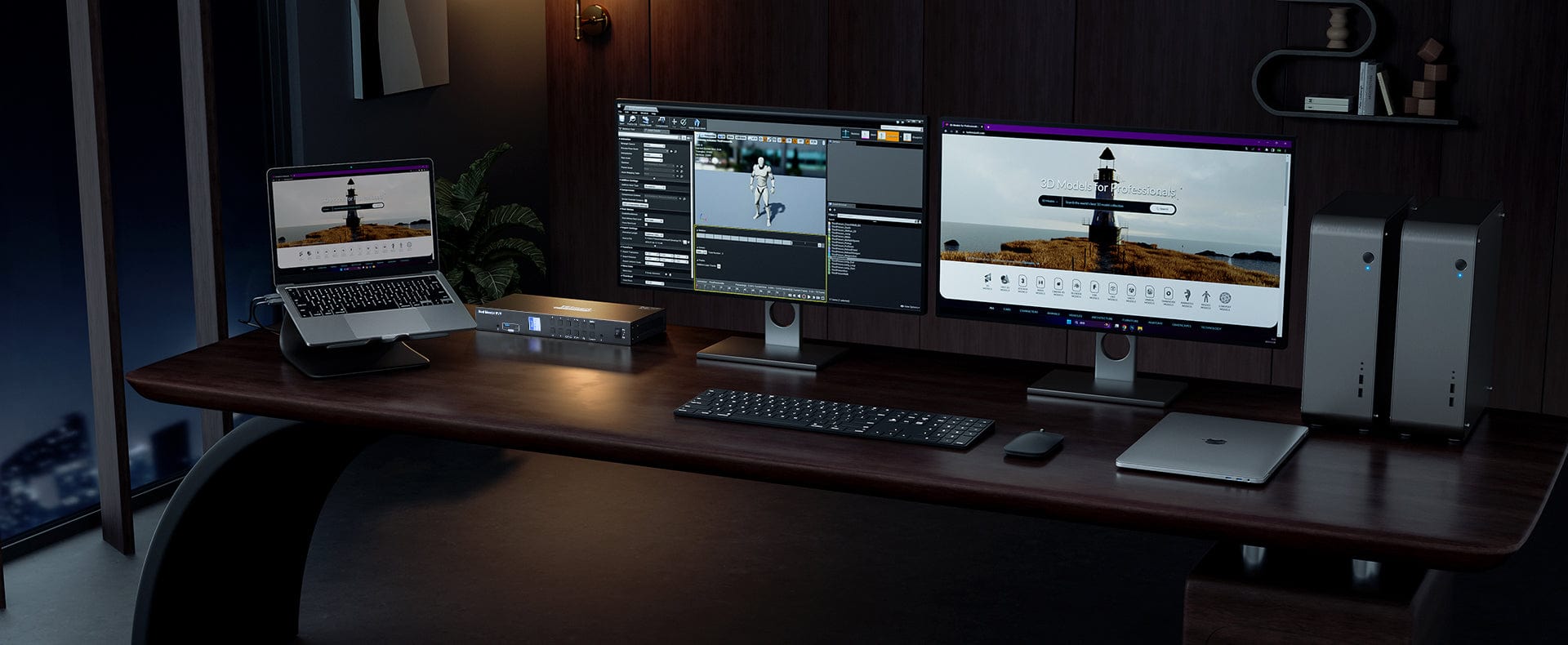 PKS0802A10-EUBK
4-Port Dual Monitor KVM Switch Kit DP 4K60Hz with EDID
Regular price

€418,70

selling price

€376,80
---
About this article:
The KVM switch kit comes with

four complete KVM to PC cables

, each containing a USB cable and two DP Cable included.

With only

1 keyboard, mouse and 2 monitor set to control 4 computers

, supports seamless switching of keyboard and mouse as well as the Throughmode.

High resolution

up to 3840*2160@60Hz 4:4:4

on any monitor, DP 1.2 and HDCP 2.2 compliant.

Two unique display modes

enable both simultaneous switching of both monitors and individual display from each computer.

With

EDID emulators

in each input port, PCs always retain correct information.

By connecting two PKS0802A10 KVM switches in parallel with the provided DCCI cable, you get a

4-PC-to-4-monitor KVM switch solution

.
Control your KVM switch with ease

using multiple switching methods including front panel button, keyboard hotkeys, IR remote and RS232.
Comparison of dual monitor KVM models for 4 PCs:
| | | | | |
| --- | --- | --- | --- | --- |
| Model | Interface | Resolution | USB Hub | Audio |
| HKS0402A2U | HDMI | 3840x2160(4K)@60Hz | USB 3.0 Hub | Audio I/O |
| HKS0802A1U-SE | HDMI | 3840x2160(4K)@30Hz | USB 2.0 Hub | Audio Out |
| HKS0802A1U | HDMI | 3840x2160(4K)@60Hz | USB 2.0 Hub | Audio Out |
| PKS0802A10 | DP | 3840x2160(4K)@60Hz | USB 2.0 Hub | Audio Out |
Share
Free EU shipping

Fast delivery from local warehouse

Hassle free returns

30 days money back guarantee

Secure payment

No payment information is saved

Lifetime Tech Support

Official professional after-sales service
Key Features

MAIN FEATURES

Efficient management of 4 PCs with one set of keyboard, mouse and dual 4K60Hz displays.
By connecting two KVM switches HKS0802A1U in parallel with the included DCCI cable you get a 4 PC to 4 monitor KVM switch solution.
2 operating modes: mode 1 for extended desktop and mode 2 for shared desktop (each computer shows 1 monitor at the same time).
4 ways to switch inputs: keyboard shortcuts, front buttons, remote control or RS232 control.
K&M walkthrough for compatibility with different keyboard types: wired, wireless, mechanical and gaming.
Simple plug and play installation with no drivers required.
Compatible with Windows, Mac and Linux, ideal for home, office or educational scenarios.
The KVM switch comes with 4 x Supplied with 1.5m HDMI/USB combo cables and 4 x HDMI cables. We make sure that all 4 of your computers are connected to the KVM. Monitors usually come with their own cables. If you need extra cables, we also have high quality cables for you to choose.
Note 1: The only difference between PKS0802A10 and HKS0802A1U is the ports. All ports of PKS0802A10 are DisplayPort while all ports of HKS0802A1U are HDMI.
Note 2: Due to technical reasons, all dual monitor switching functions can only work when both graphics cables are connected to each computer.

OTHER FEATURES

Assignable keyboard shortcuts from Scroll to Right Ctrl
USB sharing for printers, jump drives, USB headsets and webcams for video conferencing.
Supports automatic switching to monitor computers at a specified time interval.
Transmits audio over HDMI to monitors or external speakers through the KVM's stereo output.

TECHNICAL DATA

HDMI 2.0 supports 3840x2160(4K)@60hz, 3440x1440@100Hz, 2560x1440@144Hz, QHD@144hz, FHD@144hz.
With high quality cables, this KVM switch also supports QHD 2560*1440@144Hz pro monitor. This requires HDMI out on the computer and HDMI 2.0 in the monitor, which many QHD monitors don't have. To do this, test 2560x1440 with the frequency directly (without a switch) from the computer's HDMI out to the monitor's HDMI.
With HDCP 2.2 support, you can not only use PCs and laptops (possibly via docking stations) but also game consoles, etc.
EDID emulation to prevent resolution and icon rearrangement.
HDR10 and Dolby Vision support.
No lag, zero latency keyboard and mouse switching.
On/off switch on the front.
All connections are on the back.
IR remote control (battery not included). Requires 2 AAA batteries.
Before the purchase

SCOPE OF DELIVERY

EACH PC MUST MAKE 2 VIDEO CONNECTIONS (DP+DP) TO THE KVM FOR DUAL MONITORS

1 * 4x2 Dual Monitor DP KVM- Switch
4 * USB cable
8 * DP cable
1 * IR receiver cable
1 * AUX cable
1 * DC 12V power adapter
1 * 3-pin connector (for RS232)
1 * IR remote control
2 * Rack-ears
1 * User Manual

SHIPPING

We offer free express shipping (Fedex/DHL) for EU orders.

2 YEAR WARRANTY, EXTENDABLE TO 3 YEARS

TESmart KVM Switch comes with a 2 year warranty from the date of purchase. We offer a registration extension warranty program, register to extend the warranty to 3 years.
Warranty covers any defect in materials or workmanship under normal use. We reserve the right to replace any defective product under warranty (No repairs, exchanges only).
Support

FAQs

The switch must receive video signals on both DP inputs per PC for dual monitor output.
Audio is transmitted via the DP - transfer connection. A DP monitor is required for audio.
Hotkeys are triggered from a keyboard connected to the dedicated mouse or keyboard ports.
Emulation programming is locked and cannot be accessed from the mouse & keyboard ports are removed.
Dedicated mouse & keyboard ports should not be used for other types of USB devices.
Use a powered USB hub to increase the number of USB 2.0 ports to extend.
If the wireless mouse/keyboard "stutters", use a USB extender to shorten the distance from the receiver.
Please install 2 AAA batteries before you use the remote control (battery not included).

COMPATIBILITY INFORMATION

Dedicated mouse & keyboard ports have emulation programming. The second generation chipsets have a "pass through mode" to send special characters like multimedia keys (play, pause, volume up/down, etc.), which greatly improves keyboard compatibility.
Keyboard software like Logitech Options, DAS Q, Corsair iCUE, etc. conflicts with emulation programming and limits the ability to use dedicated macro keys. We recommend using the KVM's USB 2.0 port as a solution if this software is desired. The USB 2.0 port has no emulation programming and therefore the KVM does not recognize hotkey toggle commands. Please use a powered USB hub to extend USB connectivity if required.

MORE INFO
Tired of the chaos? Try TESmart KVM Switch.
Renew your hybrid life
Unleash the full potential of your diverse lifestyle. Take your work and play to the next level with fast transitions, reliable performance, and universal device compatibility. Navigate seamlessly through your digital world with our innovative KVM Switch.
Powerful dual 4K60Hz DP output

Amazing 4K60 4:4:4 resolution

Two monitors, two display modes

One touch switching

Always accurate display with EDID emulation
Immerse yourself in unparalleled clarity with dual 4K60Hz DisplayPort outputs. Our TESmart KVM switch enhances both your productivity and entertainment with ultra-smooth and highly detailed images.
Ultimate compatibility for 4K, ultra wide and high frequency displays. Elevate your visual experience with this dual monitor DisplayPort KVM switch. Supports resolutions up to:
3840x2160 (4K) @60Hz,
3840x1080@144hz,
3440x1440@120hz,
2560x1440@165hz ,
2560x1080@165hz,
1920x1080@240hz
Choose between extended and split desktop modes for seamless control of multiple devices on two screens. Effortlessly switch between laptop and PC while controlling dual displays, audio, keyboard and mouse. Perfect for home, office or study. Enjoy reliable 4K monitor support for Mac and Windows. Simplify your setup and save time with this amazing KVM switch.
Choose your ideal switching method: keyboard hotkeys, IR remote, or front panel buttons.
Never worry about display issues again. Our KVM switch with EDID emulation ensures your computers always get the correct display information, providing a seamless and worry-free experience.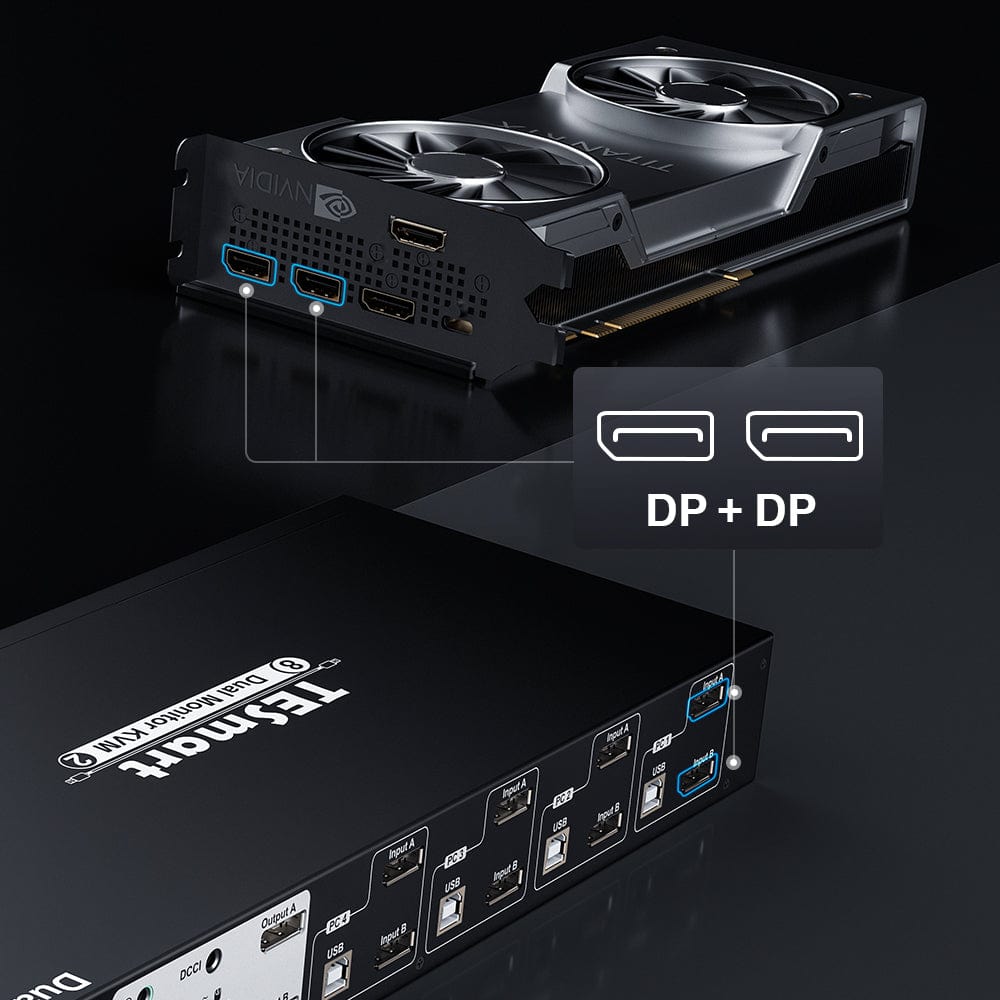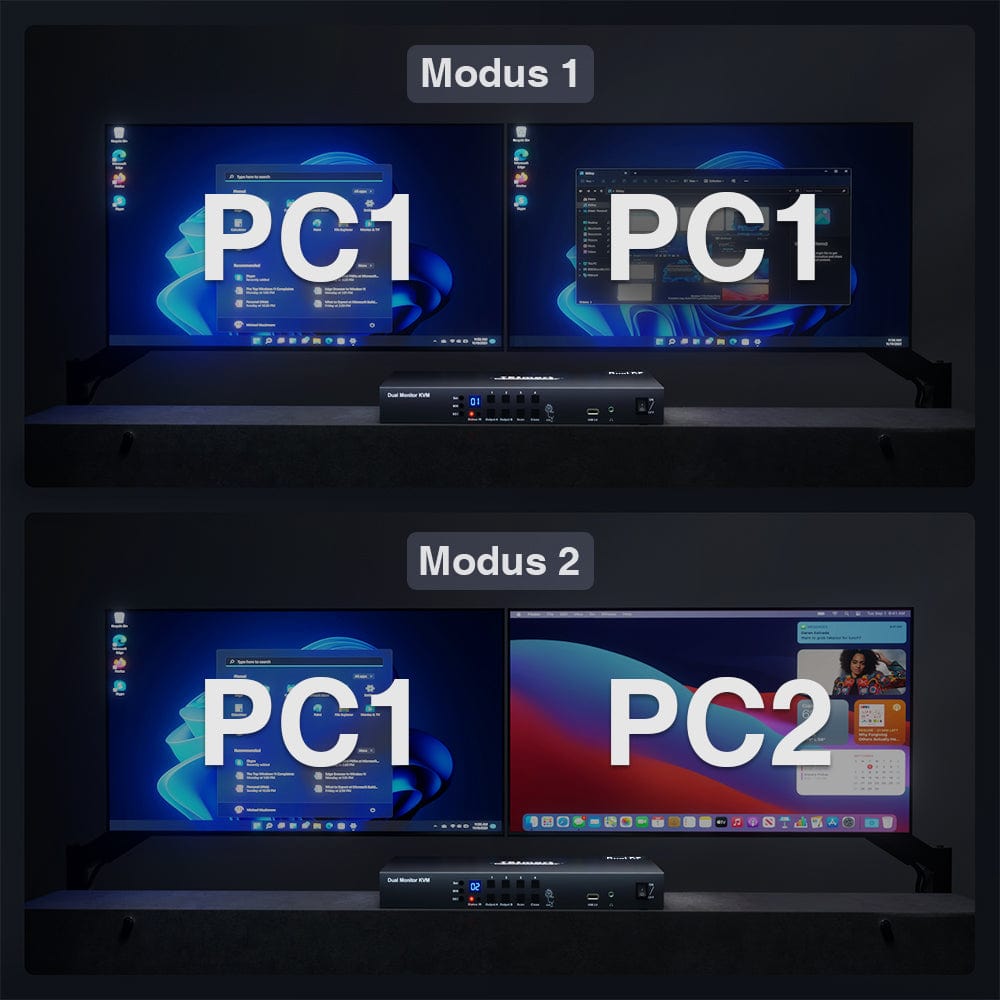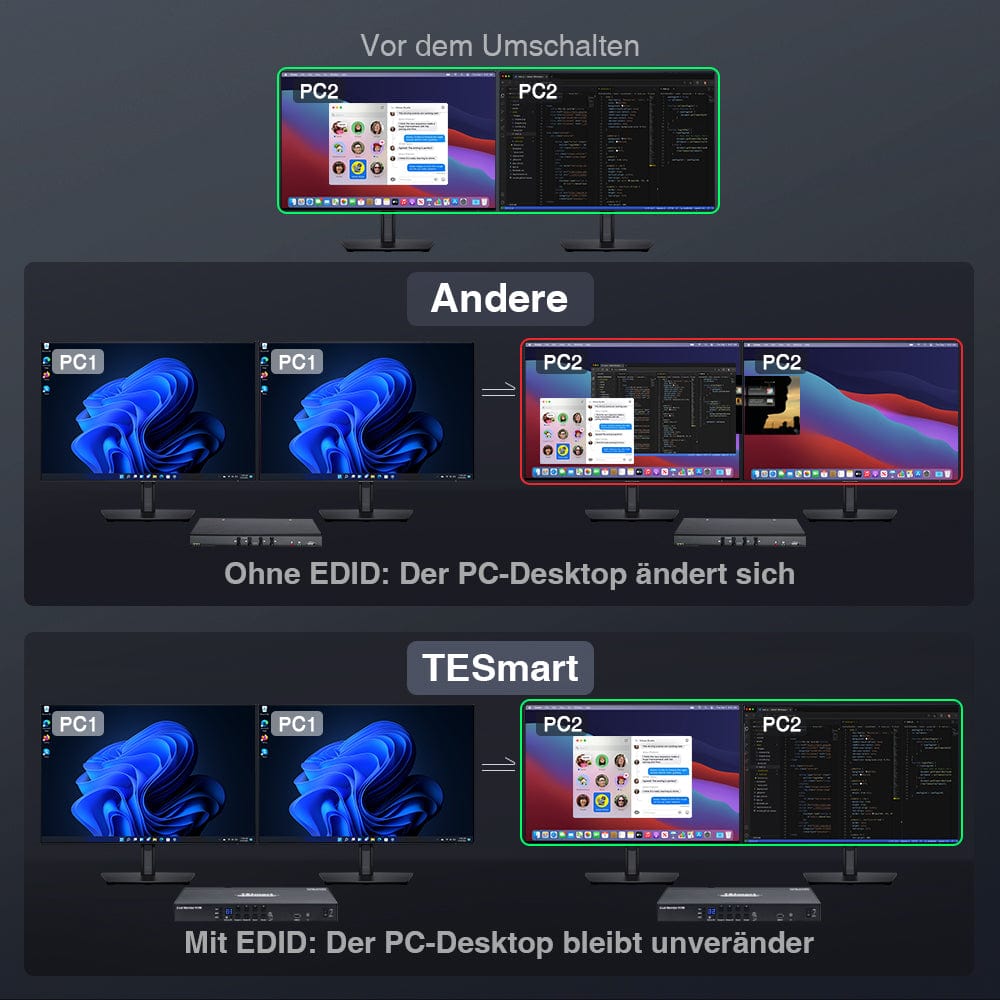 Increase KVM compatibility with pass-through mode

Seamless keyboard and mouse switching

Seamless audio and USB 2.0 sharing

Expand to four screens with display cascading (DCCI)
Compatible with various keyboard types including wired, wireless with 2.4G receiver, mechanical and multimedia. Enjoy enhanced KVM compatibility with pass-through mode.
Experience instant keyboard and mouse access on any connected PC with seamless switching. Say goodbye to wait times and say hello to uninterrupted productivity with our KVM switch.
Connect your headphones or speakers to our L/R audio output with ease and enjoy seamless audio output. Share USB 2.0 devices between multiple devices, simplify your setup and increase your productivity. Perfect for the home , office or educational institutions.
Maximize your digital workspace with the Expand to Four Screens feature using Display Cascading (DCCI). By simply connecting two PKS0802A10 KVM switches in parallel with the included DCCI cable, you can transform your setup into a dynamic 4 PC to 4 monitor KVM switch solution.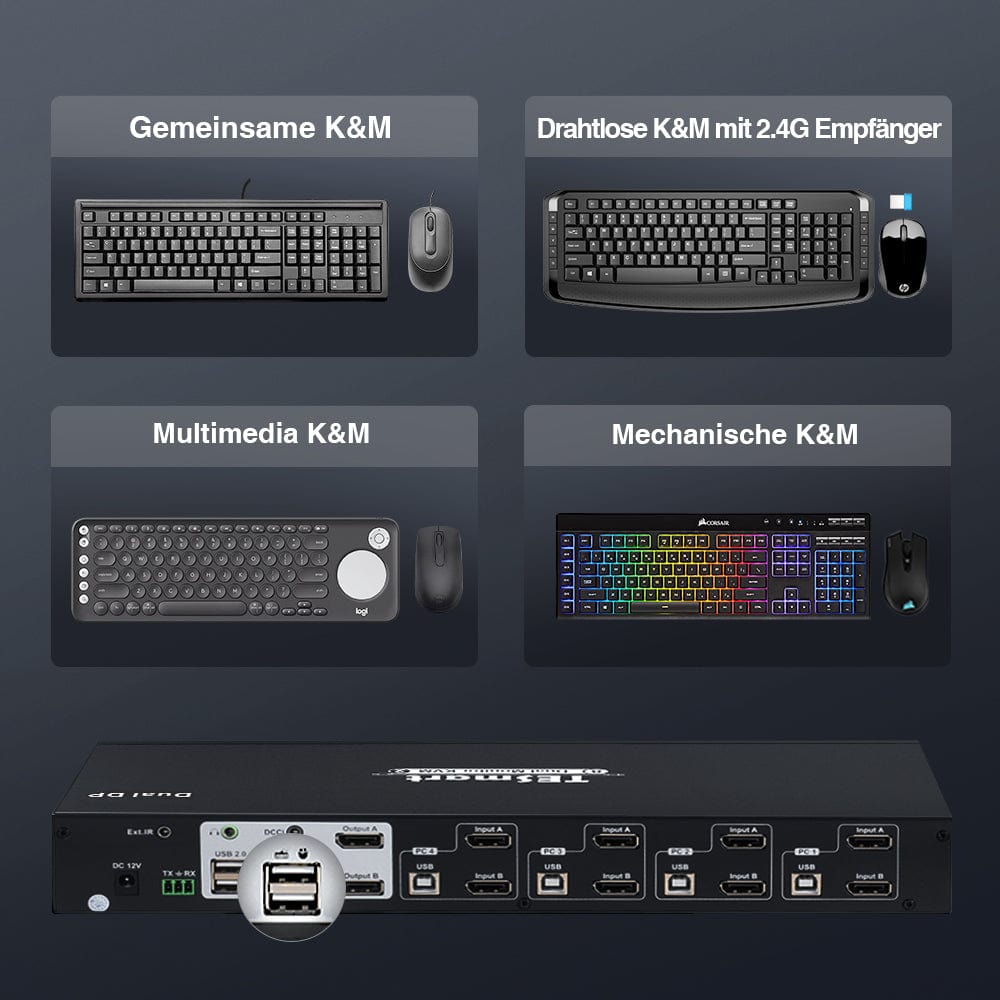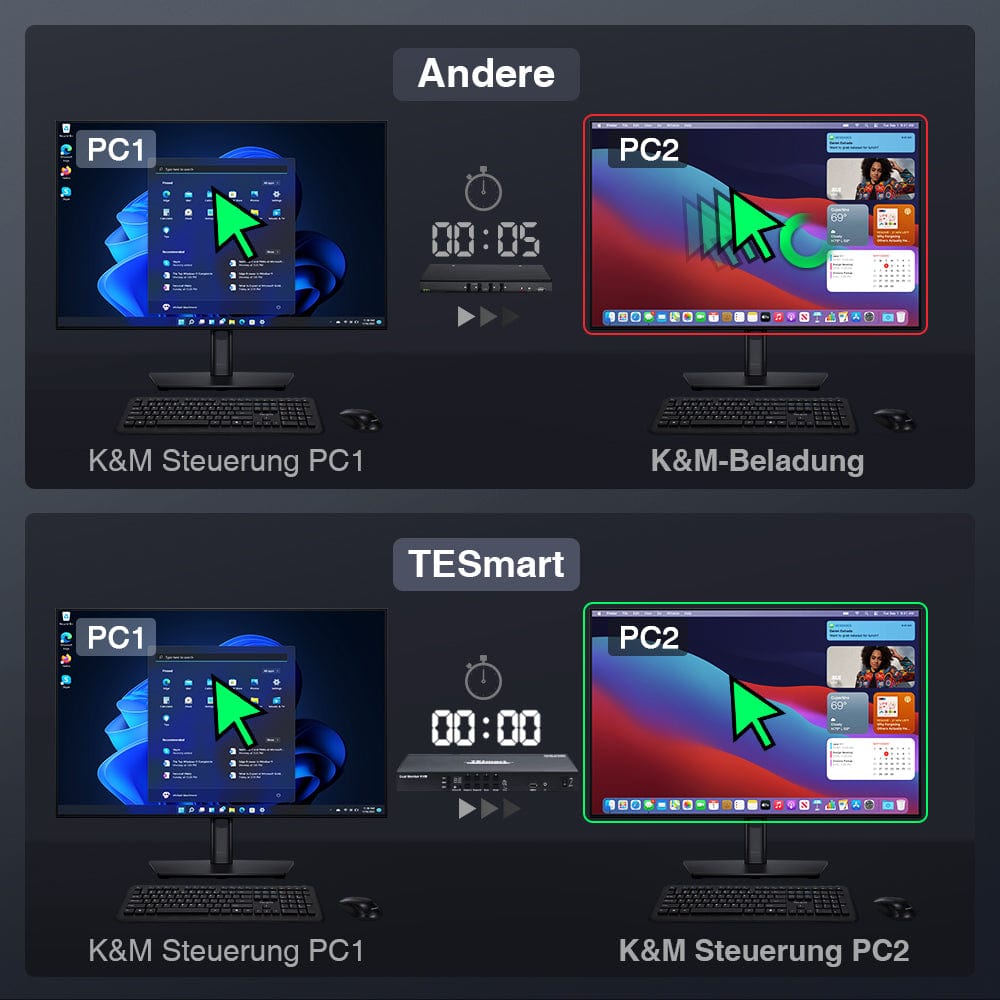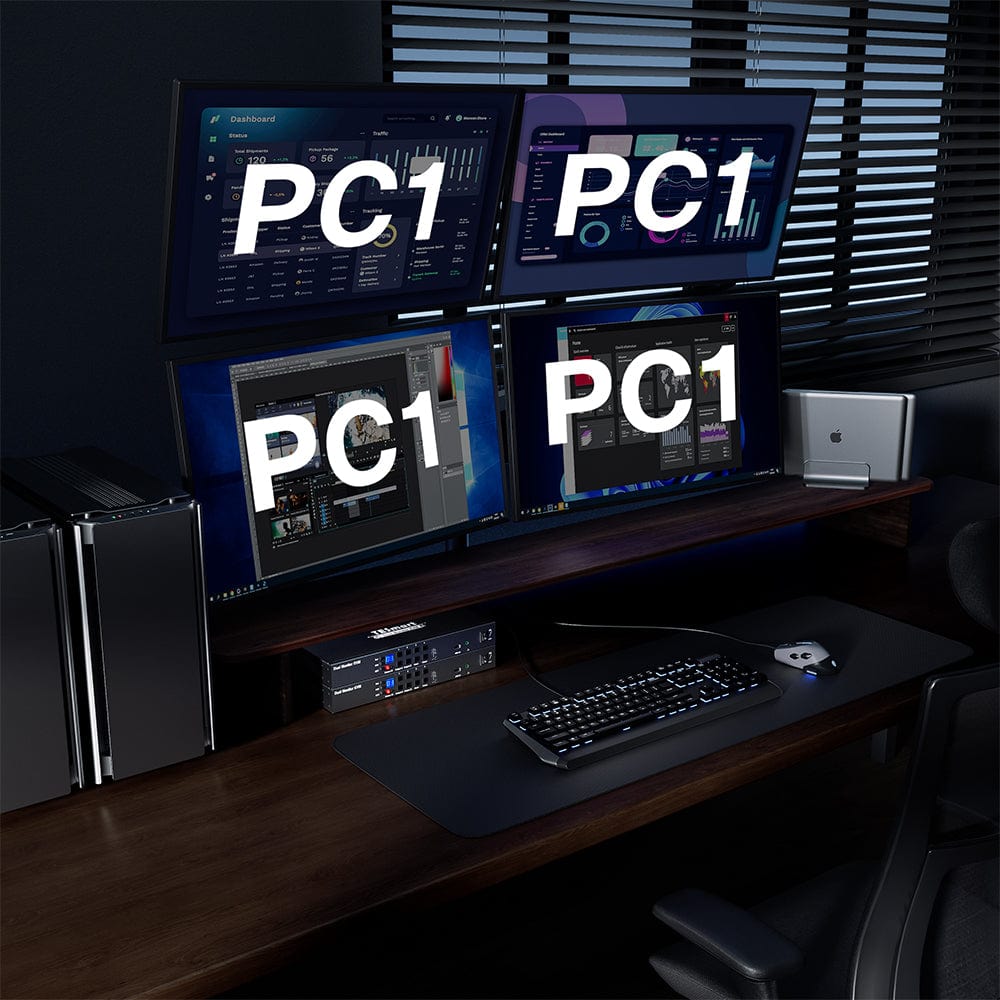 What's included?
EACH PC MUST MAKE 2 VIDEO CONNECTIONS (DisplayPort +DisplayPort) TO KVM FOR TWO MONITORS
1 * 4x2 Dual Monitor DP KVM Switch
4 * USB cable
8 * DP cable
1 * IR receiver cable
1 * AUX cable
1 * DC 12V power adapter
1 * 3-pin connector (for RS232)
1 * IR remote control
2 * Rack-ears
1 * User manual
Reviews from Youtubers
I'll NEVER Have to Leave my Desk AGAIN! 😂 - TESmart KVM HKS0802A1U
With this beauty from TESMART, you can connect up to 4 devices and 2 monitors, with resolution locking and support for up to 4k60. The KVM also shares 2 USB 2.0 ports, making it easy to switch between devices without having to reconnect peripherals.
Not only is this KVM great for gaming, but it can also be used to switch between PCs with different OSs, stream with fast switching between consoles, and more!
- Boot Sequence

VIEW MORE
Great switch for four computers.
Product does exactly what it says. Been using this for about a month now with no issues. I recommend this KVM.
Works perfectly
This switch allows me to use my personal computer and my work computer with two monitors! Once setup and after trouble shooting emails from their customer service. It works like a charm. Highly recommend!